A Lifelong Passion for Film Leads to the MFAH December 1, 2021
---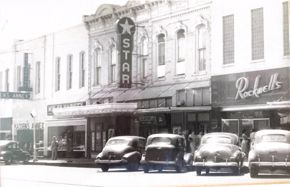 My appreciation of all things film originated with my grandparents and was incubated at their movie theater in Denison, Texas. The Star Theater opened in 1912 during the silent-film era. With the advent of "talking pictures," it became part of the Interstate Theatre chain in 1932 and was eventually renamed the State Theater. During the 1930s my grandfather was one of two projectionists at the State Theater, and my grandmother worked both the ticket booth and the concession stand.
Growing Up at the Movies
By the time I came along in the 1950s, I would spend several weeks each summer in Denison, and the State Theater was my playground. My grandfather made a booster seat for me to use in the projection booth, and there I sat for hours watching films like Old Yeller, Attack of the 50-Foot Woman, Psycho, and Village of the Damned. The lineup may not have been age-appropriate for a preschooler, but it opened the door to a lifelong passion for film.
By the 1960s my grandparents moved from Denison to Austin, where my grandfather was the projectionist at the Burnet Drive-In. During one of the last weeklong summer trips with them, and minus the booster seat, I was introduced to Antonioni's Blow-Up—not once, but five times. OK, I was hooked. Foreign films ruled.
Experiencing Cinema in Houston
I moved to Houston in the 1970s and found my tribe. The River Oaks Theatre, Rice Media Center, and MFAH Brown Auditorium Theater became portals to the world of film. I was initiated into the fascinating and bizarre world of Ken Russell at the River Oaks; learned the mechanics and power of creative vision at Rice Media Center; and found the opportunity to revel in the works of the world's most acclaimed filmmakers at the MFAH. Via the curatorial excellence at the Museum, I've experienced the best of American, Latin, European, Asian, and Middle Eastern films, all allowing for an appreciation of cinema as an art form and as a vehicle to share the global human experience.
My thanks to the MFAH film program for all the years of enjoyment, and for the years to come in Brown Auditorium Theater and the new Lynn Wyatt Theater.
About the Author
Rick Ferguson is a member of the MFAH film committee, and he served as the director of the Houston Film Commission for more than 30 years.
► MFAH Films See the schedule of upcoming films and purchase tickets.
---
The MFAH film department is supported by Tenaris; the Vaughn Foundation; Nina and Michael Zilkha; The Consulate General of the Republic of Korea; Consulate General of Italy in Houston; Franci Neely; Italian Cultural Institute in Los Angeles; Carrin Patman and Jim Derrick; Consulate General of Brazil in Houston; Lois Chiles Foundation; ILEX Foundation; and L'Alliance Française de Houston.
Recent Posts