A Legacy from Gee's Bend: Lutisha Pettway's "Bars" Quilt February 8, 2019
---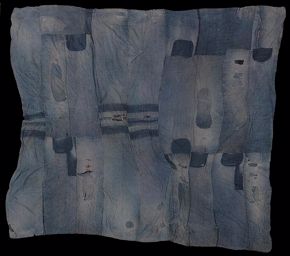 From maker magazines to crayons in waiting rooms, the act of making has been popularized for its therapeutic qualities. Mending: Craft and Community—Selections from the Museum's Collection shows how artists from around the world express the notion of mending as an act of transformation. Over the past four decades, the artists represented in the exhibition have woven together narratives of identity—race, gender, and sexual orientation—in objects made of clay, cotton, wire, and other plainspoken materials. Above all, their work reveals deeply personal stories.
One of the objects on view in Mending is "Bars" Quilt, made around 1950 by Lutisha Pettway, a descendant of slaves from a plantation in Gee's Bend, Alabama. Pettway (1925–2001) was among a four-generation community of quilt makers in the hamlet of Gee's Bend who became internationally recognized for their work after the 2001 touring exhibition The Quilts of Gee's Bend.
The early quilts of the women of Gee's Bend were made primarily from the fabrics of daily life: old work clothes, corduroy, denim, cotton sheets, and handkerchiefs. Pettway's "Bars" Quilt is made of cotton and denim scraps, mended together. In an interview for the Souls Grown Deep Foundation, she told of her life and her work. "I had nine children. Two of them died. I had to make quilts for them, and all my quilts was scrapped up out of old clothes back then. Later on, when I was a good bit older, I bought cloth from the store sometime. I did my work by my own hand, by myself."
See the "Bars" Quilt and other works of art in "Mending: Craft and Community," on view in the Law Building through October 20.
Recent Posts