A Closer Look at "Rebel, Jester, Mystic, Poet: Contemporary Persians—The Mohammed Afkhami Collection" July 21, 2017
---
This summer the MFAH presents Rebel, Jester, Mystic, Poet: Contemporary Persians—The Mohammed Afkhami Collection, a focused survey of contemporary Iranian art from the distinguished collection of philanthropist Mohammed Afkhami. For audiences unfamiliar with the rich traditions of Persian art, and its manifestations in the work of today's artists, taking a close look at the exhibition is especially rewarding.
Two of the featured artists play upon Iran's long history of exquisite draftsmanship: Nazgol Ansarinia and Alireza Dayani. Both use discreet details in their beautifully rendered drawings as a subtle form of social critique, building upon and challenging tradition.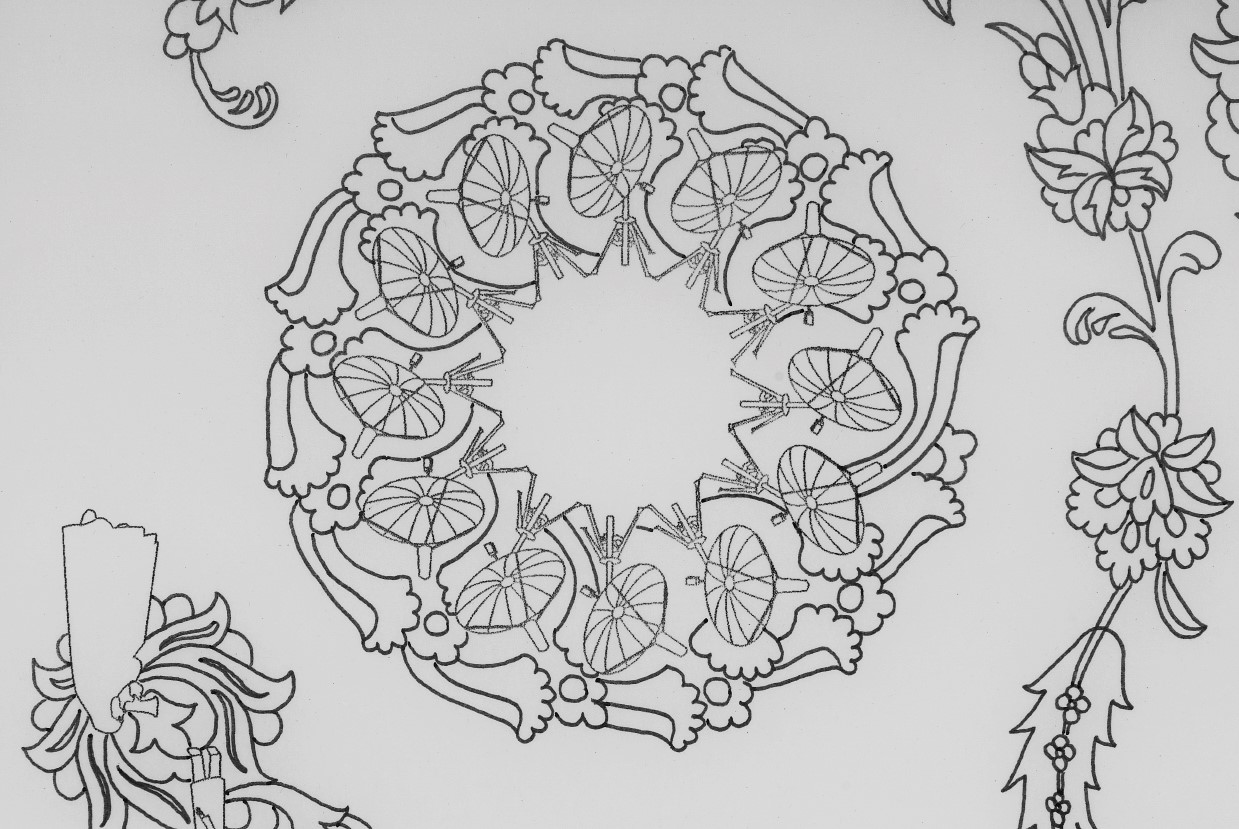 Nazgol Ansarinia, Untitled II (detail), from the Pattern series, 2008, ink and digital print on paper. © Nazgol Ansarinia / Courtesy of Green Art Gallery, Dubai, and the Mohammed Afkhami Foundation

Ansarinia takes inspiration from carpet designs, and Untitled II from her Pattern series echoes the classical arabesques and plant forms commonly found in Persian rugs. Upon closer inspection, however, you'll see that Ansarinia has inserted vignettes reflecting everyday life in contemporary Tehran: cyclists, TV news anchors, housewives standing in line, and office clerks drinking tea can be picked out from the overall design. Among her most telling details is the clusters of satellite dishes, the universal means of communication across national borders.



Alireza Dayani, Untitled, from the Metamorphosis series, 2009, ink on cotton rag paper. © Alireza Dayani / Courtesy of the Mohammed Afkhami Foundation

Dayani's monumental drawing, which is more than 13 feet wide, describes a vast underwater panorama. A part of the artist's ongoing Metamorphosis series, it displays every imaginable form of aquatic life. Woven into this composition are subtle allusions to Darwinian evolution, as mermaid-like figures emerge from the ocean's depths. In Dayani's utopia, creatures of the sea—both real and imagined—exist in close symbiosis with their surroundings, evolving in harmony with the overall flux of nature.


Detail of Alireza Dayani's Untitled

See more in the exhibition "Rebel, Jester, Mystic, Poet: Contemporary Persians—The Mohammed Afkhami Collection," on view in the Beck Building through September 24.
Recent Posts