Latin Wave Celebrates 11 Great Years April 21, 2016
---
Latin Wave, our biggest annual film festival, returns from April 28 to May 1 with 11 new films from Latin America. Every year is a little different: The 2016 selection has a strong theme of young protagonists coming of age. The teens in Absence, From Afar, I Promise You Anarchy, Ixcanul, and The Second Mother all encounter unique challenges. We get absorbed in their lives, and come to sympathize with them and advocate for them to triumph over difficult situations.



Ixcanul
I always encourage filmgoers to come to the screenings presented by our guest filmmakers, who make Latin Wave even more special. During my travels to other festivals, I've heard the very engaging Jayro Bustamante (Ixcanul) and Lorenzo Vigas (From Afar) discuss their films. Vigas joins us to introduce From Afar on opening night on Thursday, and Bustamante tells us about Ixcanul at his Friday and Sunday screenings.



From Afar
Cristina Garza, who presents both Absence and Semana santa, speaks from her broad knowledge of the contemporary film industry in Latin America. We can all learn so much from her perspective of working in film sales, an essential component of the industry. She grew up in Houston and has an MFAH connection! While an undergraduate at New York University, she interned for Mari Carmen Ramírez, the Museum's Wortham Curator of Latin American Art.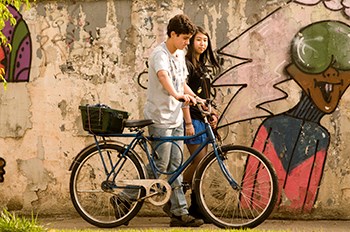 Absence
A fun aspect of an annual festival is seeing how guests return and themes recur over the years. Absence is directed by Brazilian filmmaker Chico Teixeira, a guest at our very first Latin Wave in 2006. He's very interested in family stories and was an audience favorite as he introduced his film Alice's House. I Promise You Anarchy reflects an edgier side of Mexican cinema, spotlighting urban youth in Mexico City, as we also seen in Güeros last year and The Cinema Hold-Up several years ago. And you won't want to miss Chile's The Pearl Button, by master filmmaker Patricio Guzmán. We've paired this powerful documentary with the Oscar-winning animated short Bear Story, which MFAH audiences enjoyed last fall as part of the Manhattan Short Film Festival.

Bear Story
We hope you'll join us this year! See the schedule for Latin Wave 11.
Recent Posts