Light upon Light: Radiance in the al-Sabah Galleries September 26, 2020
---
Discover themes of light and radiance in the al-Sabah Collection, one of the greatest privately held collections of Islamic art in the world. Sara Craig, a curatorial administrative assistant for the MFAH and the Blaffer Foundation, reflects on al-Sabah objects featured in the exhibition Arts of Islamic Lands.
Among the first things I notice when I visit the al-Sabah galleries are the dark purple walls and low lighting. Upon a closer look, however, there is light in the galleries, represented by objects that would have held light, reflected light, or filtered light.

Mosque Lamp, c. 1320
This glass lamp, even without the light emanating from within, glows from the gold that covers the majority of the exterior.
The Qur'an states that "... Allah is the Light of the heavens and the earth. The example of His light is like a niche within which is a lamp, the lamp is within glass, the glass as if it were a pearly [white] star lit from [the oil of] a blessed olive tree, neither of the east nor of the west, whose oil would almost glow even if untouched by fire. Light upon light ..." —from "Sura 24 al-Nur (The Light)," verse 35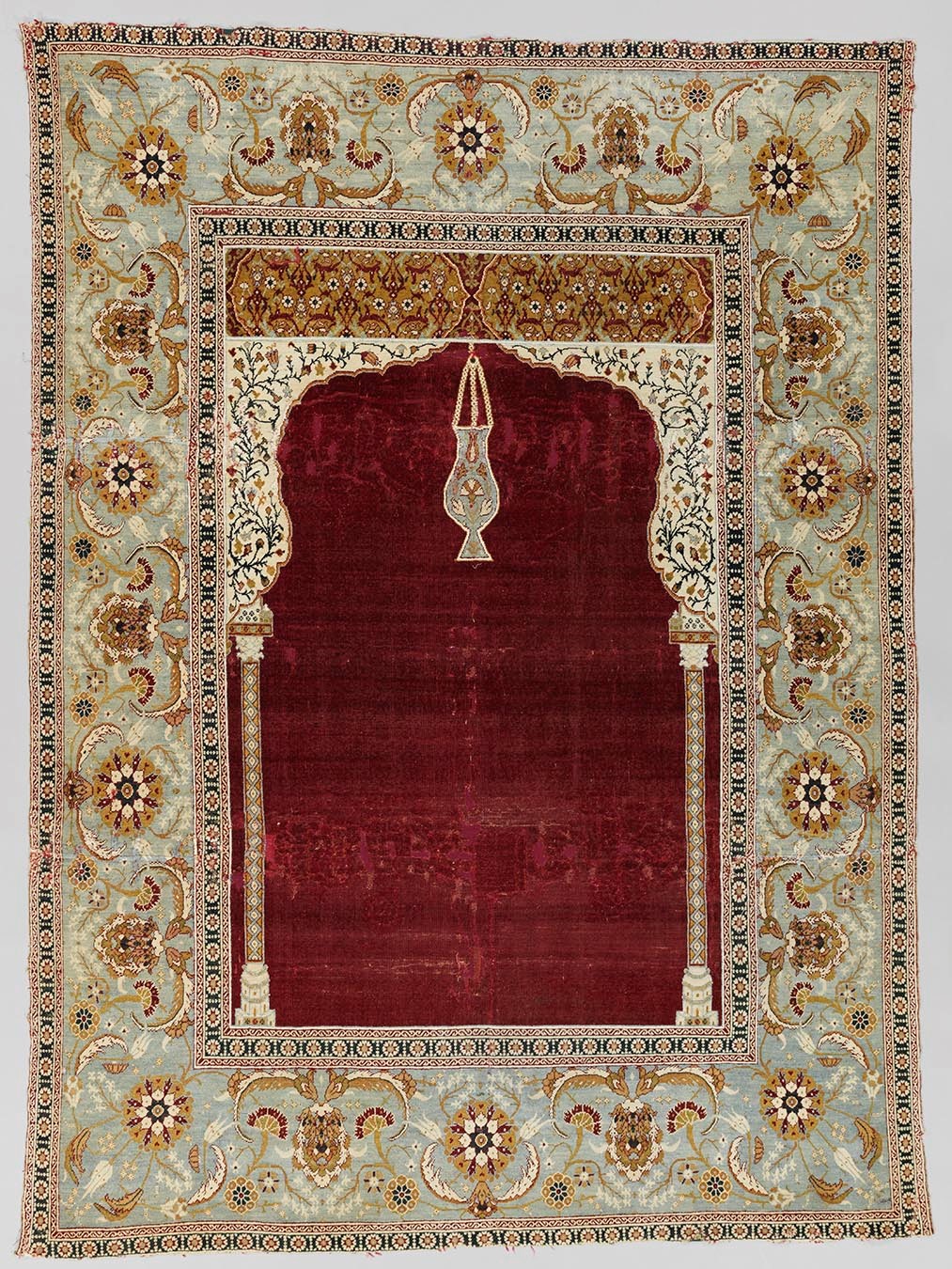 Prayer Carpet, late 16th century
Through the imagery of the lamp within a niche, this carpet brings to mind the idea of God as a light in heaven. The pale blue and yellow silk threads of the wide border around the dark red field would shimmer in sunlight or candlelight, surrounding the person at prayer with a subtle radiance.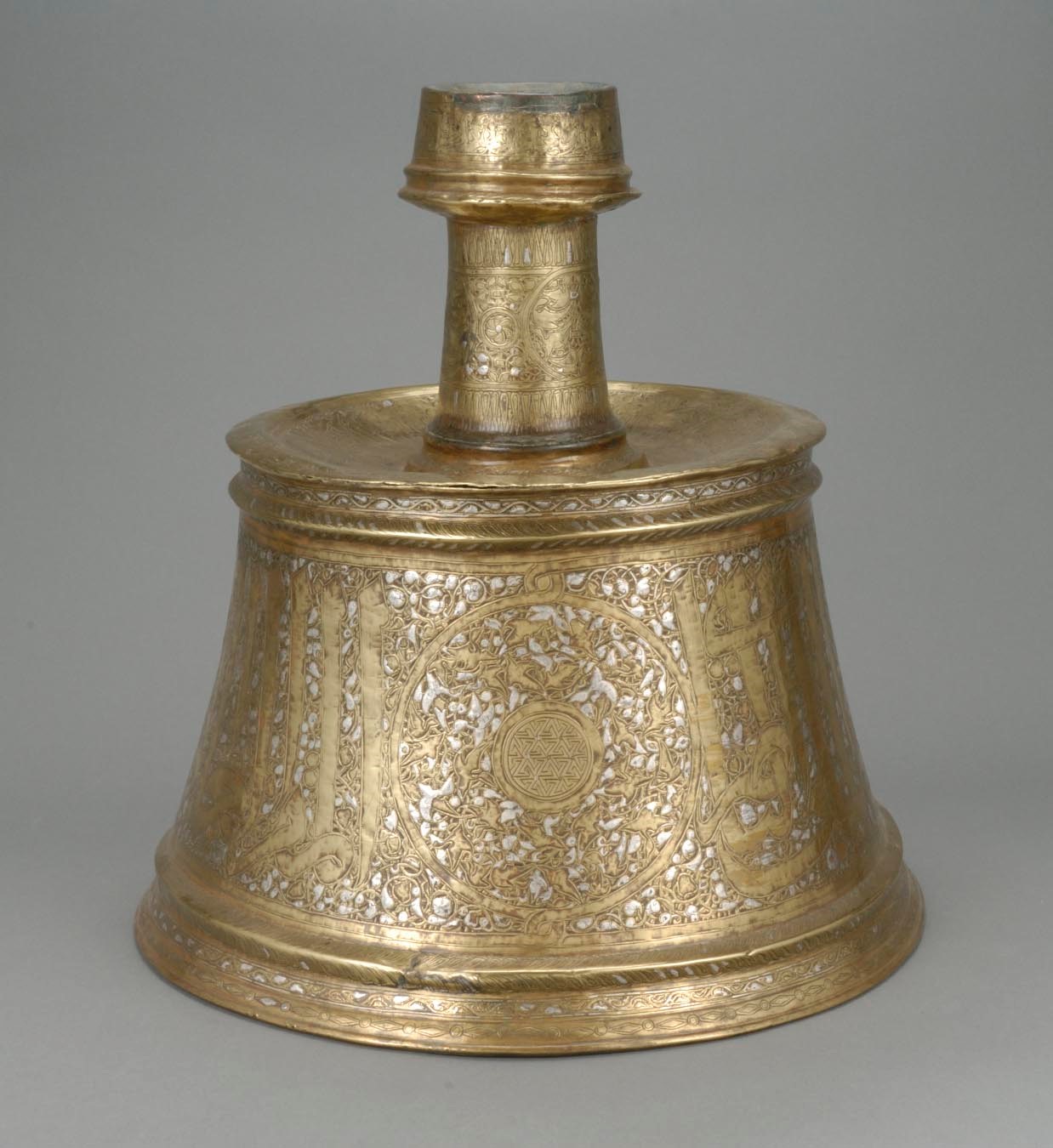 Candlestick, 14th century
Not only does this candlestick give off light with the candle it supports, but the polished brass and silver act as a mirror, reflecting and bouncing the light throughout space.

Bowl, 1st half of 14th century
Much like the brass candlestick, the polished bronze and silver of this bowl reflect available light, illuminating dark places. Polished brass bowls, often inlaid with silver, were popular in the 14th century. For another example, see this bronze Basin in the MFAH collection.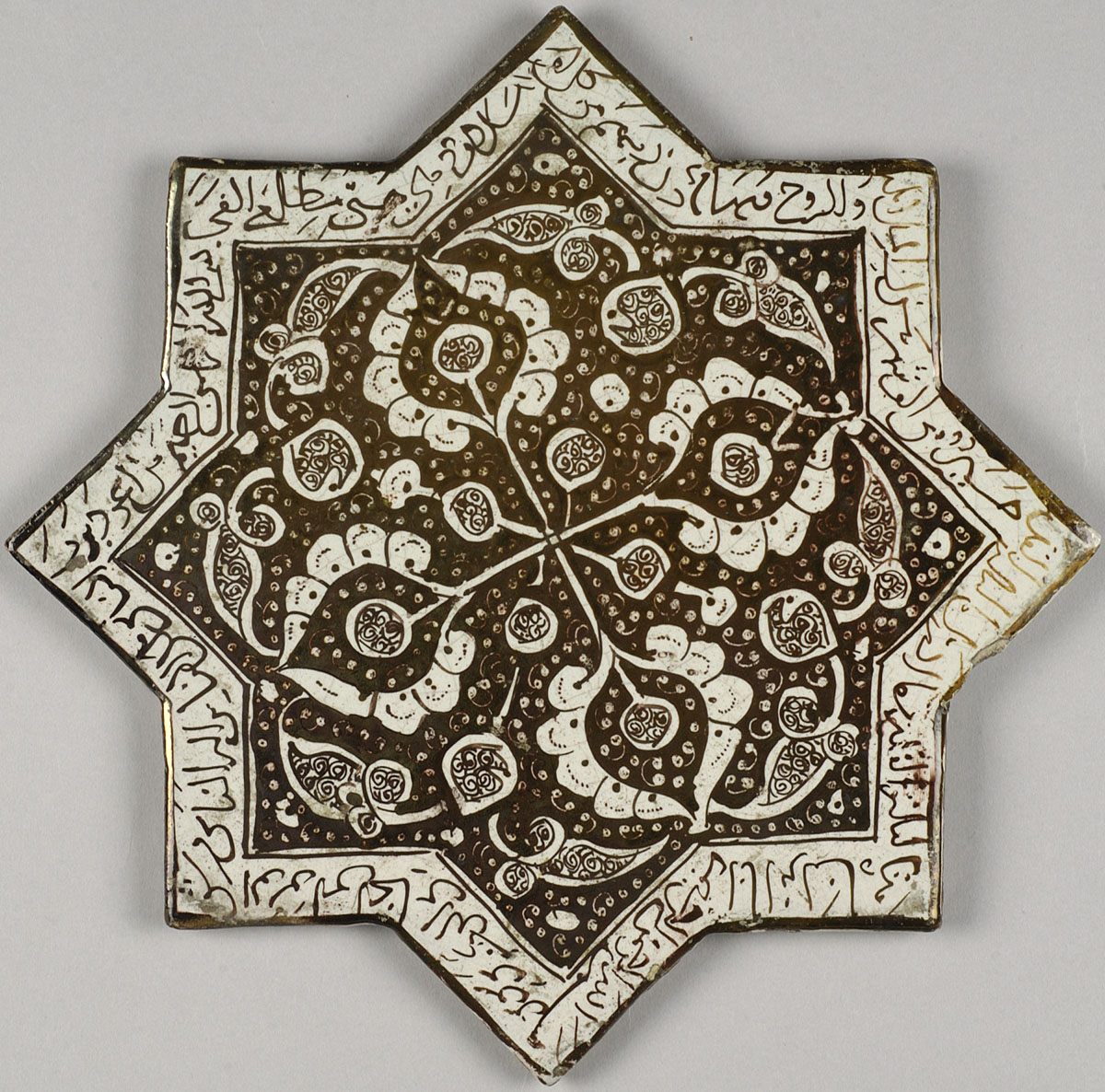 Star Tile, c. 1261–62
Luster tiles such as this one, with their metallic glaze, would have lined the walls of religious and secular buildings, reflecting a golden incandescence throughout. Luster was not used only for tiles. The MFAH collection features two examples of lusterware: Bowl with Riders and Jar with Harpies.

Mashrabiya Screens, 15th century
Mashrabiya screens allowed filtered light to enter private chambers while still permitting air to flow. In areas of harsh and hot weather, the screens let the sun illuminate an interior without overheating it. For another screen made from sandstone, see this Jali in the MFAH collection.
► Plan Your Visit See Arts of Islamic Lands: Selections from The al-Sabah Collection, Kuwait in the Caroline Wiess Law Building. Entry is included with general admission. Advance timed tickets are recommended.
---