Internship & Fellowship Programs
Internship & Fellowship Programs
Overview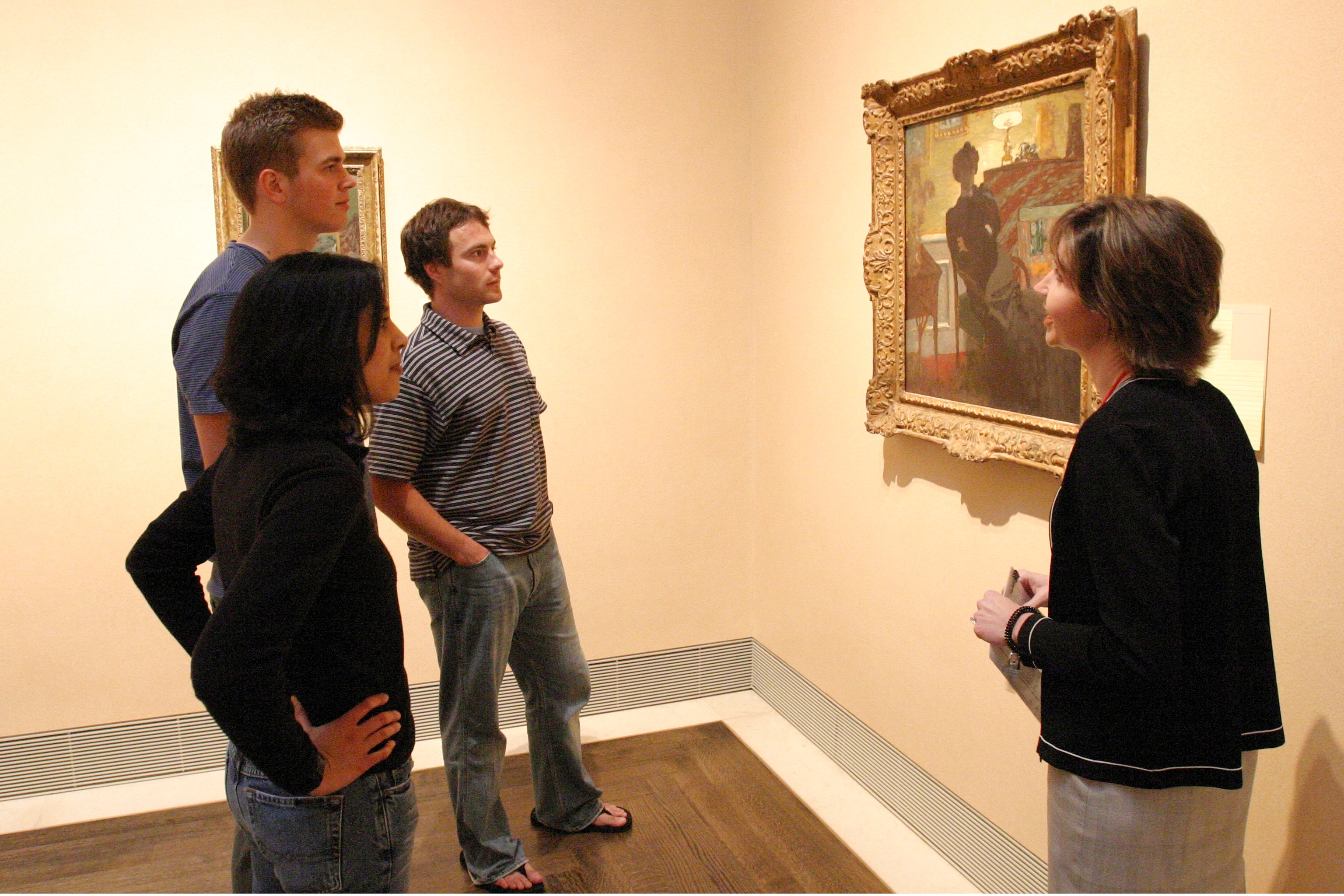 The MFAH internship and fellowship program provides specialized training and career readiness for undergraduate and graduate students, fostering the next generation of museum professionals and active community partners. Interns and fellows gain firsthand experience working on one or more meaningful projects under the guidance of staff mentors. Interns and fellows also have the opportunity to gain a broad understanding of diverse museum careers through regular professional-development presentations and outings.
Internships and fellowships at the MFAH are defined by the supervisors to meet the challenges of ongoing and/or time-sensitive projects. For example, in the curatorial department, an intern or fellow may engage in research about artists and works of art to enhance collection records, or assist with an upcoming exhibition; in the department of learning and interpretation, an intern may develop resources or assist with programs for a specific audience (families, teachers, etc.).
The MFAH offers paid fellowships, academic-credit internships, and unpaid internships. Please see individual job descriptions for details about whether a position is paid, unpaid, or offered for academic credit.
Paid Fellowships The MFAH offers paid fellowships for both undergraduate and graduate students. See individual job descriptions for information about stipend amounts and eligibility requirements.
Internships for Academic Credit Students wishing to earn academic credit do not qualify for a stipend and are responsible for ensuring all necessary paperwork is complete with their college/university. If MFAH personnel (internship & fellowship program coordinator and/or intern/fellow supervisor) must complete paperwork (verify time-logs, evaluation, etc.), it is the student's responsibility to bring the paperwork to the Museum's attention. Additionally, the college/university may have fewer or greater requirements for academic credit. If fewer requirements, students acknowledge the need to abide by MFAH requirements; if greater requirements, students acknowledge the need to inform Museum staff and understand that the MFAH may or may not guarantee compliance with requirements of other institutions.
Unpaid Internships By agreeing to an unpaid internship, the student acknowledges that the internship will not constitute employment and that no stipend will be provided.
When reviewing available internships and fellowships, carefully consider which opportunity best matches your personal and professional goals. Access complete descriptions for positions at the links below.

For special-opportunity fellowships and residencies, see information about the Mellon Undergraduate Curatorial Fellowship and Summer Academy or learn about the Core Program and Dora Maar House.
Spring 2017 Unpaid/Academic Credit Internship Opportunities
More Information
Questions?
• Contact interns@mfah.org
Selection and Notification
Only candidates chosen for interviews are contacted. Candidates selected for interviews are notified within a month of the application deadline.
Other Opportunities
• In addition to internships and fellowships, the Museum of Fine Arts, Houston, offers numerous volunteer opportunities. Learn more about volunteering.
The Summer Internship Program at the Museum of Fine Arts, Houston, receives generous funding from the International Fine Print Dealers Association Foundation; ExxonMobil; the Lubrizol Foundation; and Gifts in honor of Beth Schneider.
The Shell Nonprofit Marketing and Communications Internship is made possible through a partnership with Volunteer Houston.