Rothko in Reproduction: Dan Fischer's Graphite Homage December 15, 2015
---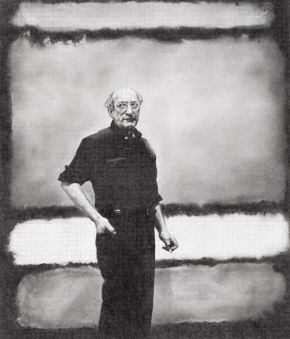 Does this image look familiar? A photomural based on a photograph most likely taken by Regina Bogat—which shows Mark Rothko standing in front of his 1960 painting No. 7—greets visitors to the exhibition Mark Rothko: A Retrospective.
The artwork you see here, however, is a graphite rendering by American artist Dan Fischer, who creates meticulously detailed drawings based on photographs of well-known 20th- and 21st-century artists and works of art.
Why the homage to Rothko? Fischer explained to the Guardian: "I can't really say how one image jumps out and chooses me, or I it—it just happens. I can say that I only draw artists or artworks that have inspired or moved me."

Fischer most likely found the widely distributed image on the Internet, where he finds many of his source materials. Using a technique he calls "Xerox Realism," Fischer photocopied the reproduction and overlaid it with a 1/8-inch grid, similar to the method Chuck Close uses to create large-scale, photorealist portraits.
After sketching another grid onto a blank sheet of paper, Fischer transferred the image using a mechanical pencil, carefully filling in one square at a time, erasing the grid as he proceeds as well. However, faint traces of the grid are left visible in the finished drawing, documenting the artist's labor-intensive process. The surface of Fischer's Mark Rothko has a soft, velvety quality, illustrating Fischer's impeccable draftsmanship and mastery of tonal variations.

Rothko and his paintings have made a lasting impression on many contemporary artists, including Gerhard Richter, who has stated: "He was a man who created a special art for us, and no one else will do such paintings again. I believe Rothko will be important for centuries to come."James Turrell also admires what one critic described as Rothko's "wall of light." See Richter's Abstract Pictures (Rhombus Cycle), currently on view in Cullinan Hall, and Turrell's The Light Inside, a permanent installation in the Museum's Wilson Tunnel, during your next MFAH visit.
"Mark Rothko: A Retrospective" is on view in the Beck Building through January 24, 2016.
Recent Posts