Garden Varieties: The Natural Beauty of "Garden Paradise" January 25, 2019
---
For centuries, gardens have been at the center of both religious and courtly life in the Islamic world. Gardens of perpetual bliss with flowing waters are promised to the faithful in the Qur'an. Writings by authors from these lands abound with descriptions of real and imagined gardens, evoking the fragrant scent of flowers and a symphony of birds and babbling water. Gardens have also hosted court audiences, musical gatherings, poetry recitations, and lovers' meetings.
Earthly Paradise in the Wagner Garden Carpet
The earliest known Persian gardens date to antiquity and have inspired artists for centuries. Among the most notable artistic manifestations of this tradition is the Persian garden carpet. On loan for the exhibition Garden Paradise: The Magnificent Safavid Carpet from the Burrell Collection, Glasgow, the 17th-century Wagner Garden Carpet is among the earliest and most extraordinary surviving Persian garden carpets.
Woven in wool, cotton, and silk, the Wagner Garden Carpet is filled with unusually dense and naturalistic examples of flora and fauna. This earthly paradise includes butterflies, lions, leopards, gazelles, a variety of birds, and fantastic beasts, that dart and frolic amid cypresses and flowering trees. Fish and mallards swim in rippling water channels. The effect is an immersive experience of an abundant, yet ordered, paradise-like retreat.
Beauty in Watercolor
The garden and the flora and fauna that inhabit this carpet have had a profound impact across artistic media produced in Islamic lands. One particularly beautiful example is the Hossein Afshar Collection's Blue Iris, a delicate single bloom executed with watercolor and ink. Although garden-related imagery in Persian art is often stylized or decorative, this work attests to the increasing interest in naturalism among Persian artists of the 18th and 19th centuries. Such detailed flower studies suggest close, almost scientific observation.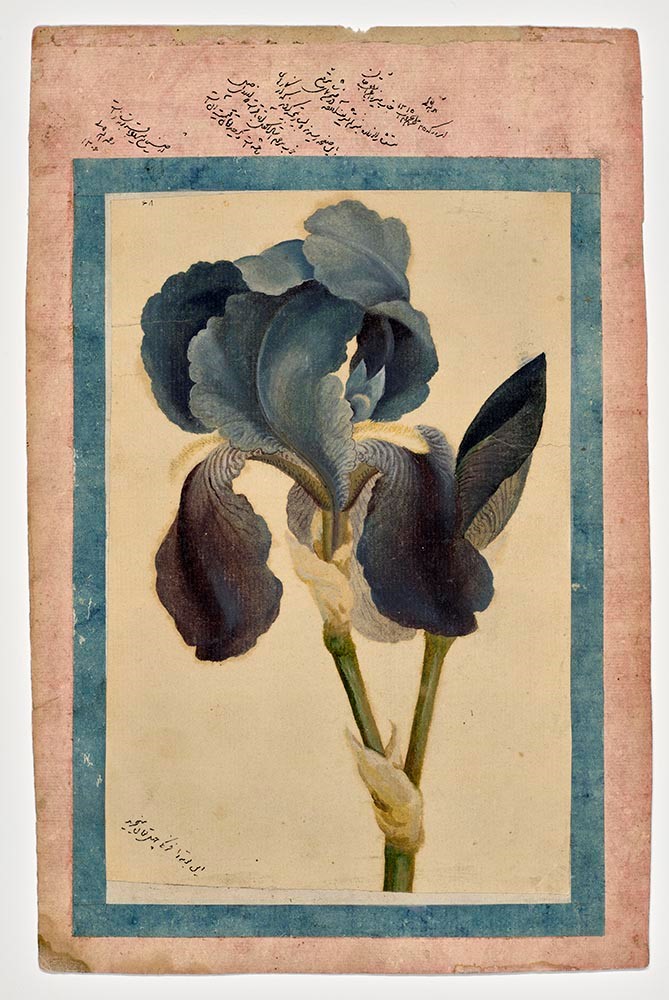 Possibly by Muhammad Baqir, Blue Iris, Iran, 18th–19th century, opaque watercolor and ink on paper, the Hossein Afshar Collection at the Museum of Fine Arts, Houston.
Natural Patterns
Artists often reduced floral and animal motifs to a few simplified forms or shapes and repeated them to create allover, decorative patterns, as exemplified by a lovely blue-and-white bottle from The al-Sabah Collection made in Turkey in the first half of the 16th century. Sprigs of white tulips exuberantly pop out at diagonals from repeated groupings of the çintamani motif, which alludes to leopard spots and is an ancient royal symbol of Central Asian origins.

Bottle, Turkish, 1st half 16th century, glazed fritware, The al-Sabah Collection.
Wall Flowers
Several extraordinary hexagonal blue-and-white tiles made in Syria in the 15th century, recent additions to the Museum's collection, also display floral designs simplified into patterns or motifs. The artists responsible for these tiles experiment with mirror-image groupings as well. Despite the repetitions, these designs are neither predictable nor static; they possess an energy and a dynamism that suggest movement and growth while bringing to mind natural forces such as the wind.

Tiles, Syrian, 15th century, stonepaste; painted in cobalt on a white ground, the Museum of Fine Arts, Houston, Museum purchase funded by Rania and Jamal Daniel, Zeina and Nijad Fares, Joy and Benjamin Warren, Lily and Hamid Kooros, Eileen and Kase Lawal, and the Friends of Art of the Islamic World.
See more in our galleries! "Garden Paradise: The Magnificent Safavid Carpet from the Burrell Collection, Glasgow" is on view through February 10. The current installation of "Arts of Islamic Lands: Selections from The al-Sabah Collection, Kuwait" is on view through December 29.