Art of the Vote: The MFAH & BakerRipley May 13, 2020
---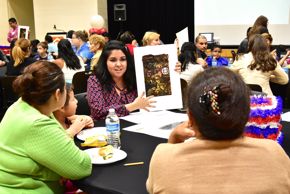 In appreciation of community partner BakerRipley, the MFAH spotlights the organization's community-engagement efforts with a throwback to when "Art of the Vote" began.
In October 2016, the MFAH and BakerRipley—a Houston-based nonprofit organization that provides community programs to benefit youth, families, and seniors—teamed up to create the voter-engagement event "Art of the Vote."
Community Engagement
"The mission of 'Art of the Vote' is to facilitate community members' increasing their knowledge about candidates and ballot measures, and to encourage their continued engagement in the public square beyond elections," said Bolivar Fraga, BakerRipley senior community engagement developer.
Bilingual Discussions
With guidance from MFAH docents, teen leadership students at BakerRipley's charter school—the Promise Community School at Ripley House—choose works of art from the MFAH collections. Using these images as prompts, the students lead bilingual discussions with community members and political candidates about national identity, social issues, and the importance of voting.
"The students realize that they are capable of facilitating meaningful conversations with adult community members and political candidates, which include both incumbents and elected leaders currently in office," Fraga said. Today, the initiative enters its fifth year of using art to promote civic engagement.
Community Values
"The 'Art of the Vote' event beautifully integrates art from the Museum's collections to spark thoughtful conversation surrounding community values," Caroline Goeser, the W. T. and Louise J. Moran Chair of the Department of Learning and Interpretation at the MFAH, told the Houston Chronicle in 2016, when BakerRipley was known as Neighborhood Centers.
The MFAH is grateful to call the BakerRipley team a community partner. In response to COVID-19, BakerRipley continues its mission to offer resources, education, and connection to local neighborhoods by providing food, financial aid, and information to Houstonians.