Music at Rienzi
Music at Rienzi
Rienzi partners with HGO Studio and Early Music Southwest to host a series of magnificent recitals reverent of 18th-century art and culture. Amidst the gorgeous surroundings of Rienzi's fine art gallery and ballroom, music patrons enjoy a vibrantly aesthetic acoustic experience. A docent-guided walkthrough tour and reception with wine and light hors d'oeuvres are included with admission. Evening performances offer valet parking.
A live music recital makes a wonderful way to spend an afternoon or evening with family, friends, colleagues, or special guests. Recital passes make thoughtful gifts as well! Please call if you would like personalized assistance. Tickets are also available online: visit the website calendar to secure seats for your desired performance date, or call 713.639.7800.
Early Music Southwest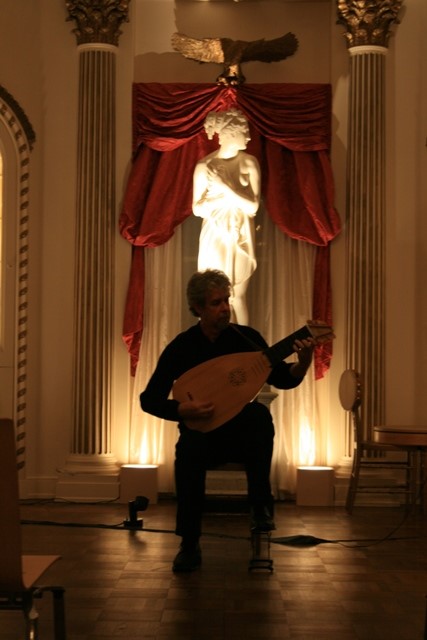 Early Music Southwest is an international collaboration of baroque-music professionals who specialize in the performance of chamber music of the 17th and 18th centuries on original instruments. EMSW was established in 2000 by noted harpsichordist Christina Edelen, former faculty member at Baylor and the University of Houston; and orchestral cellist Frederick Edelen, member of the Royal Concertgebouw Orchestra in Amsterdam. The Edelens organize this delightful Sunday series for Rienzi.
Admission is $25 for MFAH Members, $30 for nonmembers. Tickets include a reception after the performance. The home opens 45 minutes before each recital so that guests may enjoy a leisurely tour of the Rienzi Collection.
Become a friend of Rienzi's Early Music Southwest recitals with Patron-level season tickets. Patrons Pass members help underwrite the series. Call 713.639.7800 for information.
2013–2014 Performance Schedule
(more details at mfah.org/calendar)
• Sunday, October 27, 3 p.m. "The Nut Doesn't Fall Far from the Tree"
• Sunday, December 1, 3 p.m. "Christmas at the Keyboard"
• Sunday, March 2, 3 p.m. "The Classical Cello"
• Sunday, April 27, 3 p.m. "Bach to the Future"
Houston Grand Opera Studio
Audiences are invited to experience the exceptional talents of up-and-coming artists from Houston Grand Opera Studio.
Developed thematically, each performance features a repertoire of works by renowned composers and surprise talents, selected for your enjoyment by HGO Studio members. Admission is $40. Tickets include valet parking and a wine reception. The home opens 45 minutes before the start of the recital for tours of the collection. Season passes are available from Houston Grand Opera.

2013–2014 Performance Schedule
(more details at mfah.org/calendar)
• Friday and Saturday, December 6 and 7, 7:30 p.m.
• Friday and Saturday, February 14 and 15, 7:30 p.m.
• Thursday and Saturday, May 1 and 3, 7:30 p.m.
The Houston Grand Opera Studio Series is underwritten by a generous grant from the Alkek and Williams Foundation.