Mother's Day Weekend
Mother's Day Weekend
Mother's Day Weekend | May 12 & 13, 2018
Create a family memory this Mother's Day with art, activities, and special offers throughout the MFAH campus. Enjoy exhibitions and programs at the Museum, Bayou Bend, and Rienzi all weekend.
► Moms get in FREE to the Museum, Bayou Bend, and Rienzi on Sunday, May 13!
► Plan ahead with the latest parking and transportation information
Fun for All Ages
KFEC
Before you head into the galleries, stop by the Kinder Foundation Education Center (KFEC) for tips on making your visit more enjoyable. The KFEC offers family packs, sketching materials, computer stations, books, and free Wi-Fi. Friendly staff members help you explore the art collections and exhibitions in new ways.
Tours, Family Programs, Concerts & More
Throughout the weekend, the Museum offers a variety of activities. Enjoy gallery tours, family programs, films—and special Mother's Day concerts in the galleries on Sunday afternoon! Check the daily calendar for details.
Bayou Bend Collection and Gardens

May 13, 1–5 p.m.
Free admission for moms & grandmothers!
Bring the special women in your life for an afternoon of nature, beauty, and art at beautiful Bayou Bend. On Sunday, May 13, mothers and grandmothers receive free admission and complimentary lemonade and cookies.
For more information, visit mfah.org/bayoubend or call 713.639.7750.
Rienzi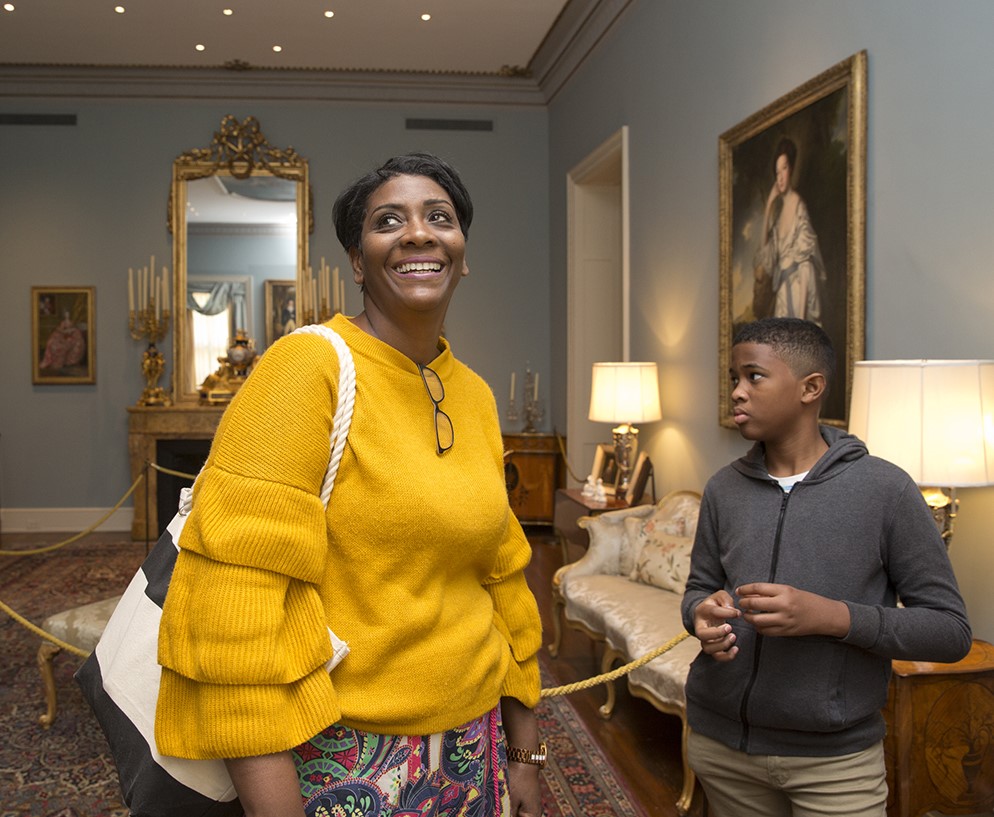 Celebrate Mother's Day with an outing at Rienzi. The lovely estate is situated on four acres of wooded gardens.
For more information, visit mfah.org/rienzi or call 713.639.7800.
Gifts for Mom
The Gift of Art
Give Mom a year of art with a Museum membership. She'll enjoy blockbuster exhibitions, free general admission and discounts at the MFA Shop and the MFA Café all year long. Memberships start at just $60. Learn more.
The Perfect Present at the MFA Shop
Stop by the MFA Shop on the main campus as well as the Shop at Bayou Bend for unique gifts sure to please, from scarves, jewelry, and home decor to prints, art books, and more.
• Plus, MFAH members get twice the usual discount during Members Double Discount Days, May 8–13!
Mother's Day Trunk Show: Sameera Faridi of Poshak Fashion & Style
May 9–11, 10 a.m.–4 p.m.
Find something extra special when Sameera Faridi, designer/director of Poshak Fashion & Style, visits the MFA Shop to present a selection of sophisticated, elegant accesories and fashions. Learn more
Mother's Day Discount
Sunday, May 13
During your Mother's Day visit, enjoy a bonus discount: 20% off one item! The discount is available in the MFA Shop and the Shop at Bayou Bend.