Visiting Bayou Bend
Visiting Bayou Bend
As of November 14, Bayou Bend has resumed regular hours. Check the online calendar for the latest information on events, and contact us if you have any questions.
Hours and Admissions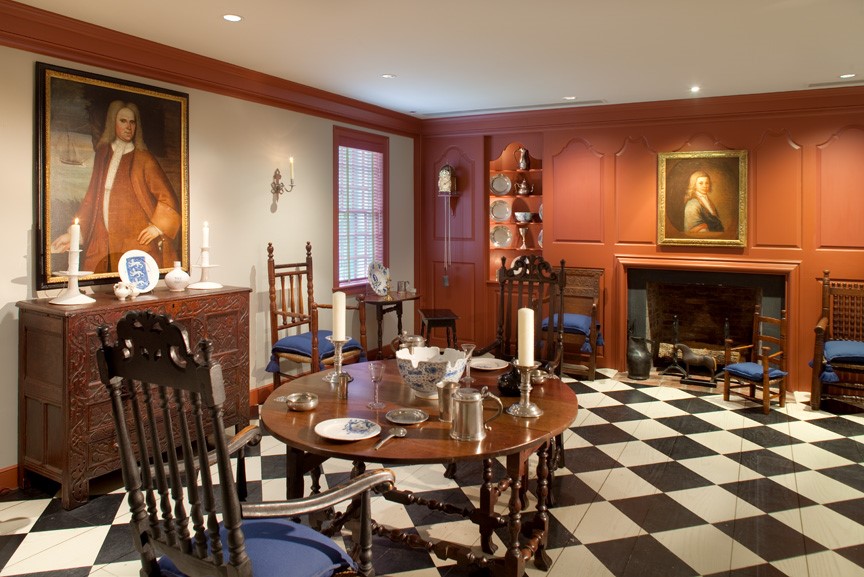 Call 713.639.7750 for information, reservations, and to arrange special tours. Some public programs and other events may affect normal touring hours. Visit the calendar for event listings and updates.
Bayou Bend is closed on Monday, except Monday holidays (for self-guided visits).
Guided House Tours
Reservations recommended • Not available during August
• Tours begin every 15 minutes during the following times:
Tuesday, Wednesday, Thursday
10 a.m. to 11:45 a.m. | 1 p.m. to 2:45 p.m.
Friday & Saturday
10 a.m. to 11:45 a.m.
GUIDED TOUR OPTIONS
♦ Highlights Tour
Length: 1 hour
• Visit several rooms on both floors of the house, including the main entertaining areas and upstairs suite
• See and learn about Bayou Bend's rarest and historically most important treasures, as well as unique Texas-made objects
• Hear about the Hogg family, and how Ima Hogg transformed her home into a museum to display one of the nation's best collections of American antiques
♦ Study Tour
Length: 1.5 hours
• Visit rooms in addition to those on the Highlights Tour
• Focus on the objects in the collection and how they reflect American history
• Receive in-depth information about American decorative arts
• See the full range periods represented by the collection (1630–1876)
• Option to visit focused displays on silver and ceramics
Self-Guided House Tours
No reservations needed
Friday–Sunday
1 p.m.– 5 p.m. (last admission 4 p.m.)
August-Only Schedule
Tuesday–Saturday
10 a.m.–5 p.m. (last admission 4 p.m.)
Sunday
1 p.m.–5 p.m. (last admission 4 p.m.)
Admission: Highlights Tour & Self-Guided House Tour
$12.50 Adults
$11 Students (with ID) / Seniors (65+ with ID)
$10 Museum members
$6.25 Children 10–18
Free for children 9 and younger*
*Children 9 and younger are not permitted on guided house tours.
Admission: Study Tour
$15 Adults
$13.50 Students (with ID) / Seniors (65+ with ID)
$12.50 Museum members
$7.50 Children 10–18
Children 9 and younger are not permitted on guided house tours.
Self-Guided Gardens Tours
(No reservations needed)
Tuesday–Saturday
10 a.m.–5 p.m. (last admission at 4:30 p.m.)
Sunday
1 p.m.–5 p.m. (last admission at 4:30 p.m.)

Gardens-Only Admission
$7.50 Adults
$6 Students (with ID) / Seniors (65+ with ID)
$5 Children 10–18
Free for children 9 and younger
Group Tours of Bayou Bend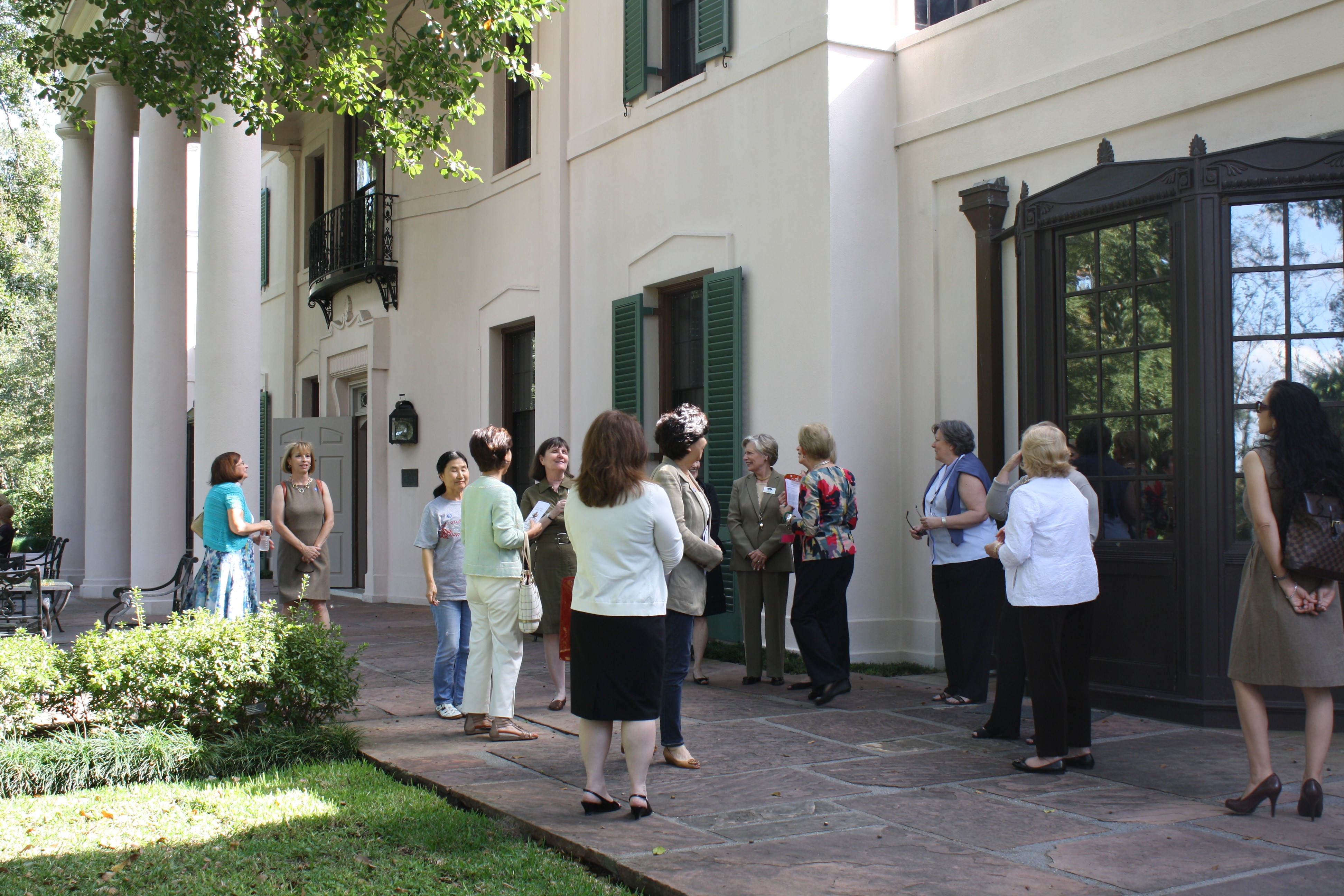 Bayou Bend is an ideal destination for a group tour. Guided and self-led options are available for the house, depending on the date and time desired. All home tours include a self-guided tour of the gardens, or you may select a gardens-only option.
Packages are available for groups of 24 or more; a 20% discount is applied to the admission fee. Group tours must be reserved at least three weeks in advance, pending availability, and guests must arrive 40 minutes prior to the reserved tour time.
For an even more memorable experience, group tours may be enhanced with options such as lectures, receptions, and luncheons at the Visitor Center. Additional charges apply.
Group Tour Inquiries
Contact Lavinia Ignat at 713.639.7758.
The Lora Jean Kilroy Visitor and Education Center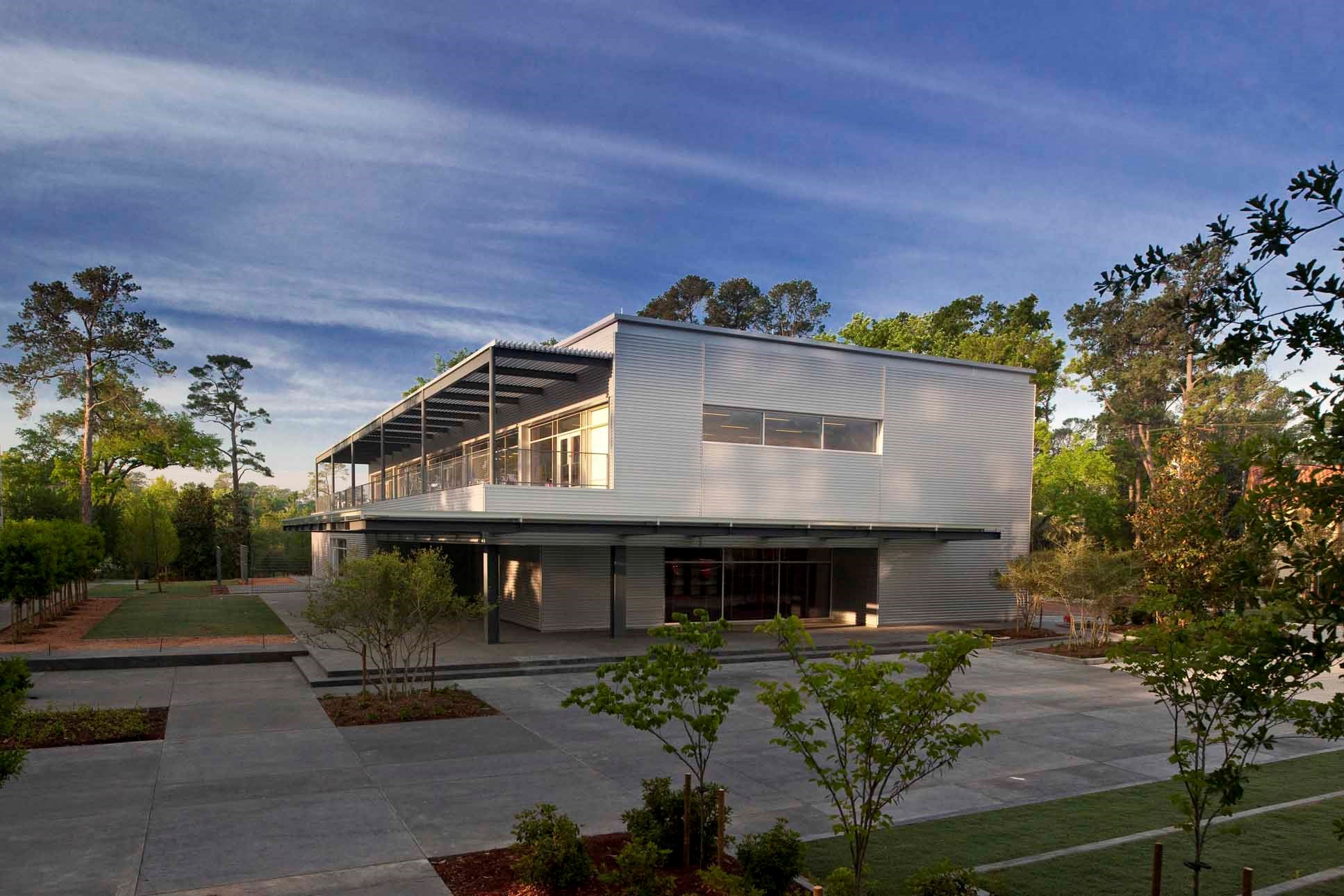 6003 Memorial Drive
Houston, Texas 77007

The Lora Jean Kilroy Visitor and Education Center at Bayou Bend features an orientation gallery, a library, a retail shop, two meeting rooms, public terraces, and ample parking. Designed by Houston architect Leslie K. Elkins and opened in September 2010, the building achieved a LEED Silver Certification for its environmental efficiencies.

What You'll Find in the Kilroy Center
The Shop at Bayou Bend
Browse a selection of gift ideas in a boutique atmosphere. Unique products, in all price ranges, reflect the quality, craftsmanship, and beauty of Bayou Bend Collection and Gardens. Shop hours: Tuesday–Saturday, 10 a.m. to 4 p.m. and Sunday, 1 to 5 p.m. Call 713.353.1544 to order by phone.
Orientation Gallery
Begin your visit to Bayou Bend in the Kilroy Center's T.L.L. Temple Foundation Orientation Gallery. Here, visitors become acquainted with Bayou Bend through several introductory videos, and discover ways to enrich their tour.
Hogg Family Legacy Room
Art objects, memorabilia, and information panels introduce you to the Hogg family's rich legacy in Texas.
Kitty King Powell Library and Study Center
The Kitty King Powell Library and Study Center houses an outstanding non-circulating collection of more than 6,000 books, periodical volumes, and auction catalogues, which are available to the public. The library is open Tuesday–Saturday, 10 a.m. to 5 p.m.

Be sure to explore the William J. Hill Texas Artisans and Artists Archive to research artists who worked in 19th-century Texas.
Meeting Rooms
The Kilroy Center features two spacious, multipurpose rooms for education programs, meetings, and facility rentals. These first-floor rooms overlook landscaped gardens and are accessible to outdoor terraces.
Tips for Visiting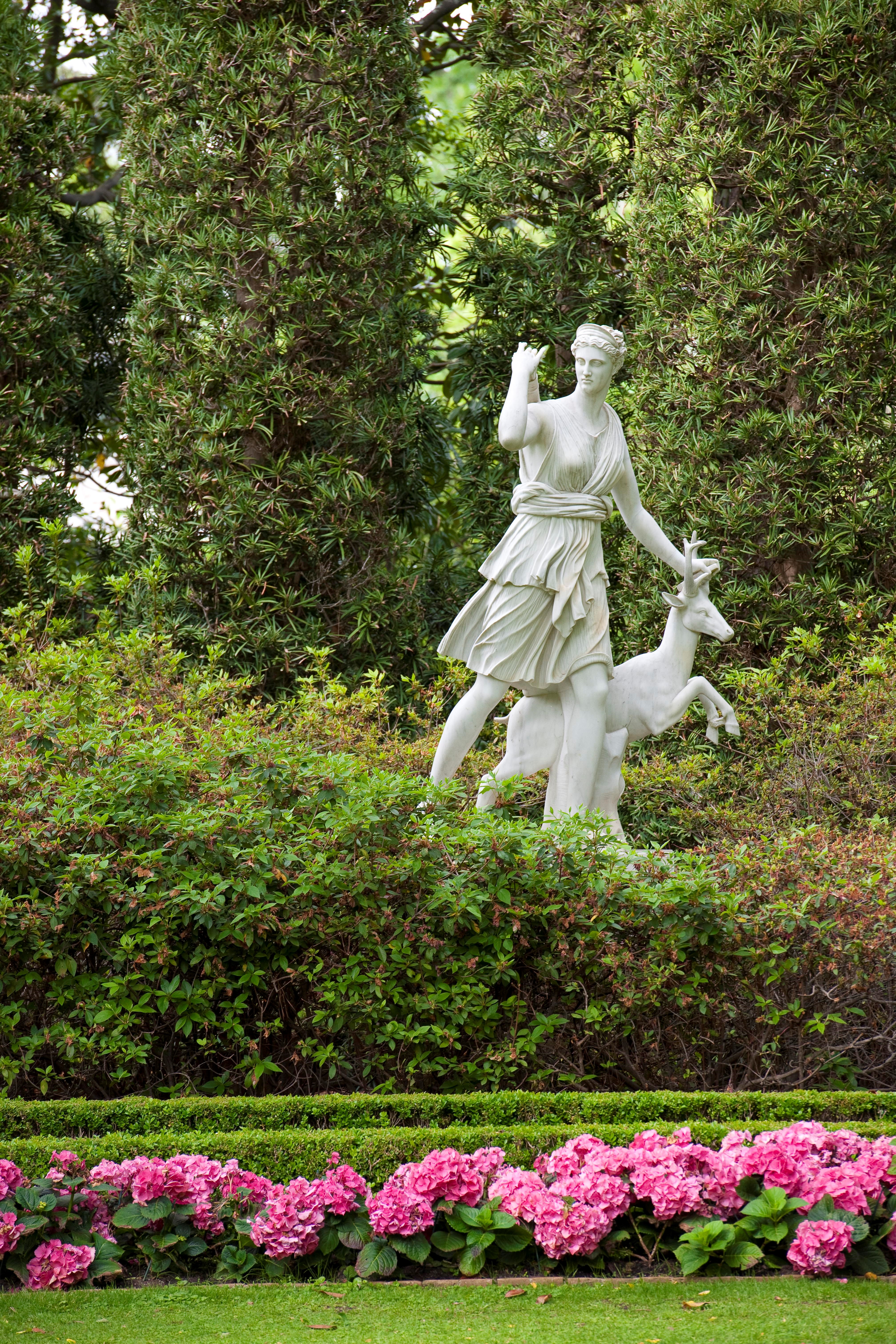 Please store all purses, bags, backpacks, and coats in lockers during your tour. Bayou Bend reserves the right to prohibit photography and videotaping on the grounds for any reason. Children 10 and older are welcome on guided home tours, and children of all ages are welcome on Sundays. Baby carriers must be worn on the front of the adult, and babies in carriers of any kind are not allowed on guided home tours.

All ages are welcome in the gardens. When you reserve a tour, please notify the tour coordinator if members of your party are physically challenged, or if someone is celebrating a special occasion. Please arrive at least 10 minutes earlier than the scheduled tour time so that you can store your belongings and start the tour on time. Wear comfortable shoes, as tours last about an hour and seating areas are limited.
Guests are welcome to visit the gardens before and after tours. Most areas at Bayou Bend are accessible for wheelchairs and people with limited mobility; consider calling ahead (713.639.7750) to inform the staff about any issues so arrangements can be planned to make your visit as enjoyable as possible.
PLEASE NOTE ► Google Maps may show Bayou Bend as a cut-through from the Memorial area to River Oaks, but this shortcut is not available. Neither the MFAH nor Bayou Bend Collection and Gardens is responsible for any unauthorized Internet content that may provide misinformation regarding, but not limited to, hours of operation, admissions, or public access. Thanks for your understanding.
Souvenir Guide to Bayou Bend
Bayou Bend Collection and Gardens
This gloriously illustrated catalogue makes the perfect gift, remembrance, or souvenir. The book introduces readers to Bayou Bend founder Ima Hogg and the time line of American style as represented at Bayou Bend Collection and Gardens. Rooms are shown in broad, full-page vision and curated details. Areas of the gardens are highlighted in bold, luscious bloom. (softcover, $18.95)

Buy online or in the Shop at Bayou Bend.
Directions
Photography Policy
Still photography, without flash, is permitted solely for private, noncommercial use. Permission to photograph on Bayou Bend properties (and the bridge) is granted for images that are personal mementos of a visit, not for images that use Bayou Bend as a setting for commemorative photos of events not related to Bayou Bend. Photographs cannot be published, sold, reproduced, transferred, distributed, or otherwise commercially exploited in any manner whatsoever.
Flash photography, photography props, and tripods (and similar equipment) are not permitted on Bayou Bend's grounds. Visitors must check large cameras, camera bags, and related equipment into a locker prior to entering the house.
The statues, plants, and trees at Bayou Bend are considered Museum commodities and may not be climbed, sat upon, leaned upon, or handled for any reason, including photography purposes.
The Museum of Fine Arts, Houston, on behalf of Bayou Bend, reserves the right, in its sole discretion, to withhold and/or withdraw permission to photograph on its premises or to reproduce photographs of objects in its collections. Bayou Bend personnel are authorized to enforce all policies and procedures included herein.
Commercial Photography and Special Requests
For press and other special photography requests, including commercial and educational film projects, fill out the MFAH Photography and Filming Request Form and submit it to the Museum's communications department at press@mfah.org during business hours.
Professional Bridal and Portrait Photography
Due to crowds and staffing, professional photography is not allowed at Bayou Bend.
Rights and Reproductions
For information about rights and reproductions in connection with photographic images from Bayou Bend's collection, contact the Museum's photographic and imaging services manager at mstein@mfah.org or 713.639.7525.
About Ima Hogg & Bayou Bend
Enjoy this short video, produced by Biography, with information about Bayou Bend's legendary founder, Ima Hogg; the extraordinary collection; and the beautiful, historic gardens.
Bayou Bend Collection and Gardens, the MFAH house museum for American decorative arts and paintings, is a 10-minute drive from the museum's main campus. The magnificent former home of Houston philanthropist and collector Miss Ima Hogg, the 1928 John Staub-designed house is situated on 14 acres of organically maintained gardens in the historic River Oaks neighborhood.
Miss Hogg (1882–1975) devoted her life to Houston's early civic, educational, and cultural institutions. She was also an astute and ambitious collector, determined to assemble the finest examples of American material culture from 1620 to 1870. In 1957, she donated her home and collections to the MFAH. Bayou Bend opened to the public in 1966, quickly establishing itself locally and nationally as a cultural treasure.
Today, nearly 2,600 objects installed in 28 period room settings showcase the evolution of American taste from the Colonial through the Victorian eras, including furnishings, paintings, silver, ceramics, and glass. Outside, visitors stroll through surrounding woodlands and a series of gracious and beautiful gardens that Miss Hogg intended as outdoor rooms for living and entertaining, not just views to be admired from within the house. In 2010, Bayou Bend opened a visitor center designed to be a modern gateway to the historic collections and gardens. The house is just a short walk away, through a bird sanctuary and over a suspension bridge that spans Buffalo Bayou.
From the Director
Welcome to Bayou Bend Collection and Gardens online. America has always been a nation of collectors. From the humblest houses to the most magnificent mansions, American homes are filled with objects that proclaim our status, our lifestyle, and our place in the world. For Miss Ima Hogg, the legendary Texas collector and philanthropist, the collecting impulse lay at the heart of America's heritage. In 1920 she began acquiring furniture and other objects that would tell the history of colonial America, and would evolve into the Bayou Bend Collection, one of the nation's foremost assemblages of American decorative arts dating from 1620 through 1870. Bayou Bend, the beautiful house with the romantic name, was designed as a private residence for Miss Hogg and her brothers, Will and Mike. Although the house was not built until 1928, the room settings faithfully re-create interiors from previous eras. Miss Hogg donated Bayou Bend to the MFAH in 1957, with the understanding that it would be converted into a house museum. Over the next decade, rooms that once served Miss Hogg's personal needs were transformed into period settings to showcase her superb collection. Although the house opened to the public in 1966, Miss Hogg continued avidly to collect for her beloved Bayou Bend until her death in 1975 at the age of 93. The objects in the Bayou Bend Collection are among the finest examples of American design and craftsmanship, but they also reflect the tastes, values, and aspirations of ordinary Americans. Today, the collection fulfills Miss Hogg's dream that "Bayou Bend may serve as a bridge to bring us closer to the heart of an American heritage which unites us." We hope you enjoy your online visit and will be inspired to visit Bayou Bend in Houston.

Sincerely,
Bonnie Campbell
Director, Bayou Bend Collection and Gardens
Conservation programs at Bayou Bend receive generous funding from the George and Mary Josephine Hamman Foundation; Mr. Charles Butt; Dr. and Mrs. Frederick R. Lummis, Jr.; Carol and Les Ballard; the Elva Johnston Foundation; the Don and Colletta McMillian Foundation; and Anne and J. Taft Symonds.