Hirsch Library Collections
---
Collection Overview
The Hirsch Library contains roughly 175,000 volumes devoted to the visual arts. The collection features not only books and periodicals, but you'll also find an array of online resources, auction catalogs dating from the 19th century, unique artists' books, museum collection catalogs from around the globe, and artist files covering more than 25,000 artists. The collection complements the MFAH art collections and exhibitions, with additional emphasis on areas of potential growth.
Noteworthy contributions to the library come from the collections of Edgar Peters Bowron, Garth Clark & Mark Del Vecchio, Alfred C. Glassell, Jr., Manfred Heiting, Garth Jowett, Joan Morgenstern, Sarah Campbell Blaffer Foundation, Anne Wilkes Tucker, and Clinton T. Willour.
For more information about these collections and others, search the library catalog, consult a librarian, and visit the reading room.
Featured Collection: Clara Diament Sujo's Library
Clara Diament Sujo formed three libraries during her career, and the Hirsch Library is proud to serve as the home of the last one, which she generously donated in 2016.
Sujo is recognized as a critical figure in the field of Latin American art. Over the course of 40 years, her galleries—Estudio Actual (Caracas) and CDS Gallery (New York)—pioneered a broader notion of "Art of the Americas" to interrogate cultural boundaries between North and South. Her groundbreaking work as a gallerist, writer, and critical thinker are reflected in the diversity of her book collection, which comprises nearly 600 monographs, exhibition catalogues, and gallery ephemera.
Some of the most intriguing and rare materials come from Sujo's own galleries, such as this charming handwritten mock-up of an exhibition catalog for an Adja Yunkers exhibition.
Featured Collection: Ceramics Books from the Collection of Garth Clark and Mark Del Vecchio
In 2007, the MFAH acquired the Garth Clark and Mark Del Vecchio Collection, one of the most important collections of modern and contemporary ceramics in the world. Along with this collection came a significant library that had been built by Clark and Del Vecchio over many years. Their generous donation of more than 2,500 books and periodicals supports further scholarship on the collection specifically and in the field of ceramics in general. Among the highlights are a rich array of gallery catalogs and museum exhibition publications that document the artistic careers of artists such as Robert Arneson, Anthony Caro, Ruth Duckworth, Akio Takamori, Beatrice Wood, and Betty Woodman.
Explore the full range of books donated by Clark and Del Vecchio with a keyword search of the library catalog using "Garth Clark & Mark Del Vecchio" in quotation marks.
Featured Collection: Photography Books from the Collection of Manfred Heiting

In 2002, the MFAH acquired the Manfred Heiting Collection, one of the finest encyclopedic photography collections in the world. In connection with this acquisition, Amsterdam-based collector Manfred Heiting generously donated over 3,000 books and periodicals devoted to the field of photography. Among the highlights now in the collection of the Hirsch Library are Man Ray's La Photographie N'est pas l'Art, William Klein's Life Is Good & Good for You in New York, Eikoh Hosoe's Man and Woman, and Andy Warhol's Index Book.
To discover more books donated by Manfred Heiting, conduct a keyword search of the library catalog using "Gift of Manfred Heiting" in quotation marks.
Featured Collection: Lester Beall's Library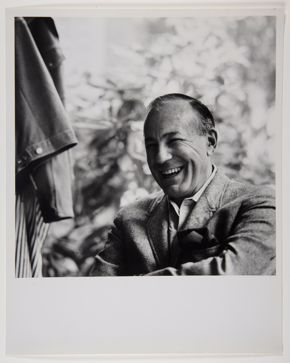 Acquired by the Hirsch Library in 1973, the Lester Beall Collection forms a crucial cornerstone to the library's holdings. It features the personal book collection of renowned graphic designer, Lester Beall.
His well-rounded collection speaks at once to his influences, taste, and versatility as a designer. Beall's success was marked by an exhibition held in 1937 at the Museum of Modern Art in New York which centered on his poster designs for the Rural Electrification Administration—the first time an American commercial artist was recognized with such an exhibition. His cultivated collection includes nearly 1,000 books that date from 1789 to 1971 on topics such as graphic design, typography, photography, printmaking, and the applied arts, as well as important artist monographs and exhibition catalogues—including the first book ever published by the illustrious Bauhaus.
• Discover other publications that inspired and informed Lester Beall
Featured Collection: Books from Clint Willour's Collection
Over the course of four decades, Clint Willour made a significant impact on the Texas art scene as a curator, writer, collector, and donor. Willour served as a curator of the Galveston Arts Center for 15 years, and as curator and executive director for another 10 years. While there he exposed Texas audiences to numerous early- and mid-career artists for the first time. His generous spirit and keen eye also greatly benefited the Museum of Fine Arts, Houston, through donations or financial contributions that resulted in the acquisition of more than 1,300 works of art and another 2,500 books for the Museum's Hirsch Library. His enthusiasm for photography is reflected in more than 1,000 books from his collection that now grace the library's collection.
Search the Collections
The Hirsch Library's catalog provides an efficient means to search virtually the entire collection of the Hirsch and Powell Libraries, including books, periodicals, theses and dissertations, artist files, and online resources. These searches can be conducted from work, home, or school via the Internet. For detailed information about items generally not included, such as auction catalogs, commercial gallery catalogs, and museum files, contact the Hirsch Library.
Explore the Rare Collections
Among the holdings of the libraries, you'll find a growing collection of rare materials that range from the 15th century to the present day. Some highlights include an early edition of Giorgio Vasari's Lives of the Artists (1647), considered the first art history publication, in addition to a three volume set by David Roberts, Egypt & Nubia (1842-1849), regarded as one of the finest achievements of 19th-century publishing and lithography. Twentieth-century masterworks that grace our collection include a lavishly bound volume entitled The Art Work of Louis C. Tiffany (1914) that documents a work of art from the museum's collection; numerous books by Ed Ruscha, a pioneer in the creation of artists' books in the 1960s, as well as more recent limited edition publications by master book-maker Keith Smith.
Rare materials can be identified in the Hirsch Library's catalog by selecting the "Rare" limit. Please schedule an appointment to view these materials.
Books & Periodicals
While the information landscape is rapidly changing around us, books and periodicals still play an important role in art research. You can expect to find hundreds of new book titles each month in the library's reading room, ranging from exhibition catalogs to monographs to biographies to collection catalogs to catalogues raisonné to artists' books to the latest issues of more than 250 periodicals.
To find a book of interest, simply search the Hirsch Library's catalog by author, title, subject, keyword, or any combination of these.
To find a periodical of interest, simply search the Hirsch Library's catalog by "Journal Title Keyword." You can also limit your search by "Serials."
If you want to access specific content within periodicals, the Hirsch Library subscribes to a number of periodical indexes and full-text resources that will allow you to search their contents.
Artist Files
Artist catalogs and ephemera files make up this collection. Artist catalogs are publications ranging from 6 to 50 pages, whereas the ephemera files are made up of content from 1 to 5 pages including newspaper clippings, gallery invitations, curriculum vitae, and artists' statements. You can identify both artist catalogs and ephemera files in the Hirsch Library catalog by searching for the artist's last name under "Subject Browse" and then looking for items titled "Artist Catalog File" or "Ephemera File."
Auction Catalogs
Auction catalogs include holdings dating to the late 19th century. To browse recent acquisitions of Christie's, Sotheby's, or Phillips catalogs, visit the Hirsch Library reading room, where three years of catalogs are on view for your convenience. To determine whether specific sales catalogs are available, please contact the Hirsch Library. For access to information about specific lots that have sold at auction, visit the library to use one of the online subscription auction indexes.