Hirsch Library History
Hirsch Library History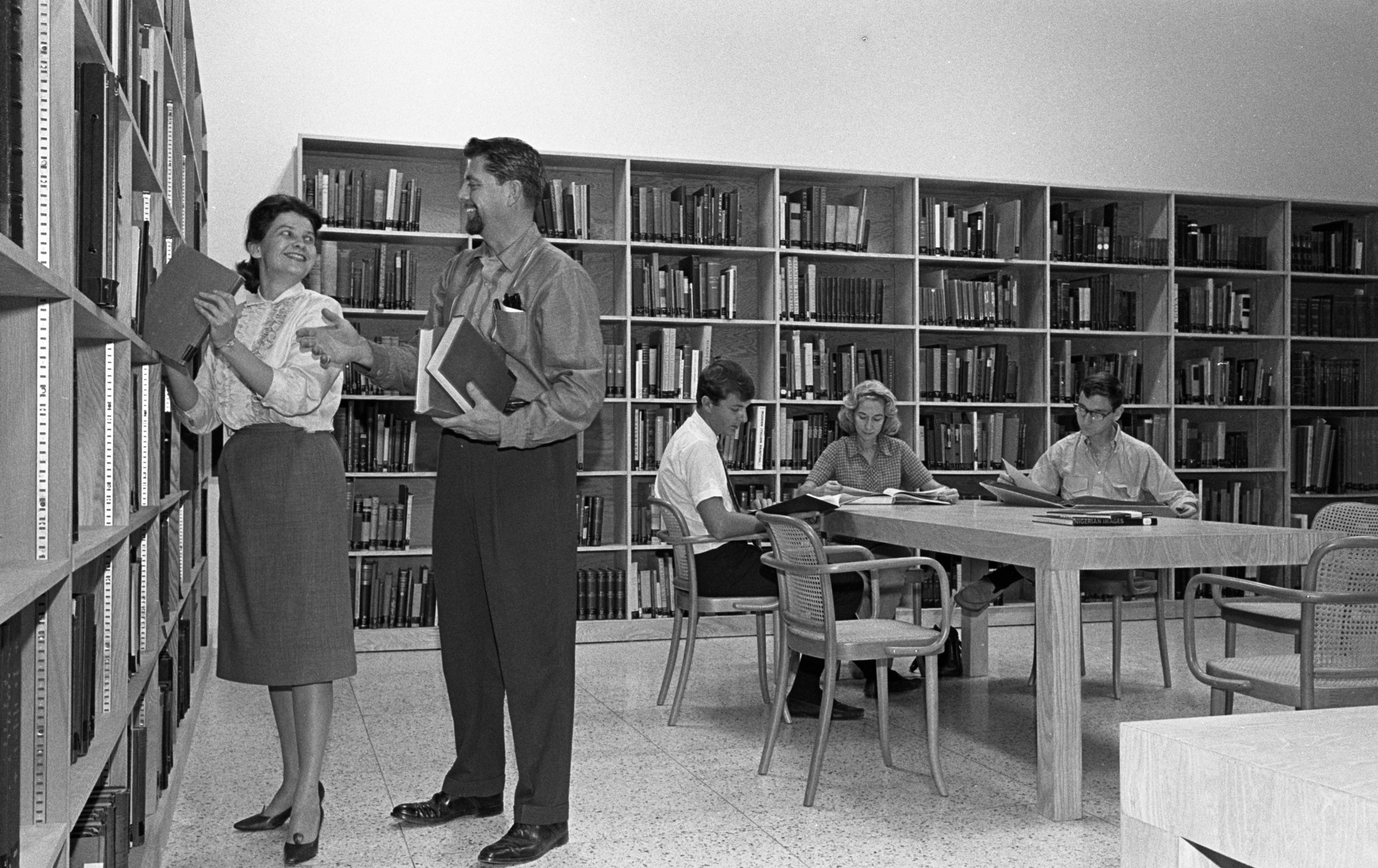 A timeline of the Libraries of the Museum of Fine Arts, Houston • Additional details are available in this PDF
1926
Idea for building a library at the Museum is introduced by MFAH director James Chillman
Location of original library was in the basement of the west wing of the Museum
Furnishings consisted of Windsor chairs and one single reading table
Money for books to start the library's collection came from a public fund drive
1964
The Museum hired its first professionally trained librarian, Debra Neu
1974
New area for the library is created in the Ludwig Mies van der Rohe addition to the MFAH
1981
General Maurice and Winifred Busby Hirsch establish an endowment for the library
As a lasting tribute to these two patrons, the library is named the Hirsch Library
2000
Museum's Audrey Jones Beck Building opens
Renovation of Hirsch Library begins; physical size increases from 3,900 to 8,400 square feet
May 2001
Hirsch Library opened to the public in its current space
September 2010
Bayou Bend's Lora Jean Kilroy Visitor and Education Center and newly named Kitty King Powell Library and Study Center enabled the return of the Bayou Bend library and Hogg Family Collections to their proper home
2017
Largest art-museum library facilities in the South-Central United States
Roughly 175,000 volumes devoted to the visual arts
Team of 15 information professionals
Free to the public and open five days per week
Maurice and Winifred Hirsch
In September of 1981, an endowment was established for the library by two longtime Museum supporters: General Maurice and Winifred Busby Hirsch.
This generous bequest was designated to be used for "the maintenance, repair, and embellishment of the present or subsequently substituted premises of the Museum library and for the purchase of fixtures, furnishings, books, manuscripts, book illustrations, periodicals, appropriate art objects, and any other use pertinent to a museum library" (letter from Maurice Hirsch to the chairman of the Board of Trustees, September 23, 1981).
The library was named the Hirsch Library that year, as a lasting tribute to these two patrons.
The Hirsch family had been involved with the MFAH since it opened in 1924. General Hirsch's father, Jules Hirsch, was an early contributor to the Museum building fund that year. In 1947, Maurice and Winifred were married and became active participants as a couple in the city's cultural life. In the early 1950s they carried on the family's support of the Museum with generous financial contributions and donations of works of art to the MFAH art collections. The Hirsches traveled the world many times, and during a trip to Egypt in 1952, they bought several Egyptian art objects for the Museum.
Maurice became a Museum trustee in 1960. Winifred played an active role in the Museum's auxiliary and volunteer groups, and in 1954 and 1955 she was the first chair of the "Art Cart" program that took works of art from the Museum to Houston's Veterans Administration Hospital. The most treasured of the Hirsches' gifts to the Museum is an outstanding Greek vase, or hydria, created circa 470–460 BC by the Painter of the Yale Oinochoe. This lovely black vase depicts scenes of daily life painted in red.
Maurice died during a trip to Hong Kong in 1983, after a lifetime of work as a lawyer and philanthropist. Winifred continued to actively support the Hirsch Library until her death in 1990. She bequeathed her jewelry collection to the library, and its 1991 sale at Christie's in New York added significantly to the endowment.