The Edward J Wormley Archive
The Edward J Wormley Archive
"To Hold Fast to What Is Good"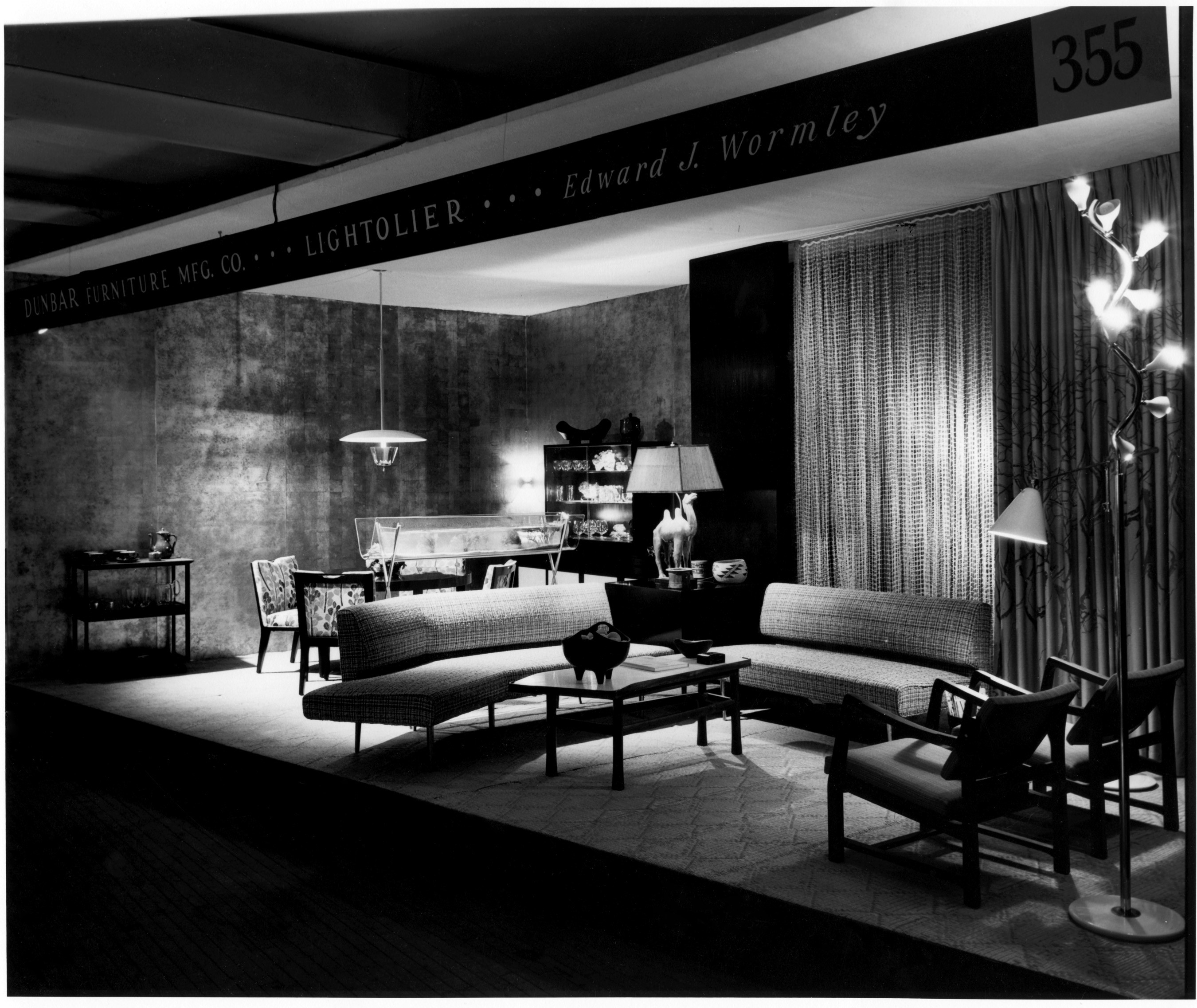 By Lorraine A. Stuart
MFAH Archives Director

August 2011—The MFAH Archives is pleased to announce the acquisition of the Edward J Wormley Collection, a gift of the John R. Eckel, Jr. Foundation. A master of mid-20th-century design, Edward J Wormley (1907–1995) created custom furnishings that looked to both traditional styles and modern innovations while taking into account the needs of the contemporary American lifestyle. Wormley amassed an extensive slide collection for study and reference purposes, as well as to chronicle his work for clients such as Dunbar Furniture Company, Alexander Smith & Sons, and Schiffer Prints.
John R. Eckel, Jr. (1951–2009), a Houston businessman and collector who was drawn to modern American art and design, purchased Wormley's archive in 2006 from Wright auction house in Chicago. Eckel was extremely fond of Wormley's work, and in addition to the slide archive, Eckel collected some 40 pieces by the designer.
The more than 3,000 glass and film slides picture Wormley's mid-20th-century furniture, designs, exhibitions, and showroom installations, as well as print advertising of the period that featured his work. Additionally, the collection contains 1.5 linear feet of photographic prints and 5.5 linear feet of textual records comprised of catalogues, ephemera, correspondence, planning materials, scrapbooks, press releases, news clippings, and other promotional materials.
The slides are arranged by designer, country, period, or style, and they also represent furniture by contemporary colleagues, including the Herman Miller design group, and design styles as divergent as Queen Anne and Bauhaus. Wormley's interest in travel is also reflected in slides he purchased from institutions such as the Winterthur Museum in Delaware and Longwood Gardens in Pennsylvania, as well as in photographs of sites throughout the United States and Europe.
Born in Rochelle, Illinois, and raised in Oswego―small towns just outside of Chicago―Wormley experienced a childhood bout with polio that left him with a pronounced limp. The disability did not, however, hinder the affable and sharp-witted Wormley from living a full and active life.
Wormley exhibited an early interest in design, completing correspondence courses from the New York School of Interior Design while still in high school. He attended three semesters at the School of the Art Institute of Chicago before a lack of funds forced him to enter the work force. He began his career in 1928 at the interior design studio of Marshall Field & Company department store. By 1931, Wormley, whose designs embrace elegant simplifications, frequently dropped the use of a period following his middle initial, a typographic choice that reflected his streamlined aesthetic.
Wormley took advantage of a period of unemployment in 1931 to travel to Europe. Upon his return to the United States, he was hired by Dunbar Furniture Company of Berne, Indiana, for whom he designed both traditional and modern collections. Although the company decided to focus exclusively on the modern beginning in 1944, Wormley adeptly incorporated traditional features into affordable contemporary designs for the consumer who had neither the budget nor desire to embrace the pure Modernism represented by the then-popular International Style. Wormley maintained that "Modernism means freedom—freedom to mix, to choose, to change, to embrace the new but to hold fast to what is good."
After a brief hiatus during World War II, during which he headed the Furniture Unit of the United States Office of Price Administration, Wormley returned to Dunbar as an independent consultant. The move allowed him the freedom to open his own interior design studio in New York.
His projects included designing lighting displays and store showrooms, such as the one completed for the Superior Electric Office. During this time, he also designed carpets for Alexander Smith & Sons, the largest carpet manufacturer in the world, and textiles for Schiffer Prints.
During his lifetime, Wormley's designs were endorsed by fine arts institutions, including the Museum of Modern Art in New York, where he exhibited four times between 1947 and 1952. Exhibitions of his work were also held at the Baltimore Museum of Art (1951), Nelson-Atkins Museum of Art (1956), Brooklyn Museum (1958), San Francisco Museum of Art (1960), Philadelphia Museum of Art (1983), and Triennale XIII in Milan (1964).
He received numerous awards for his work, including the Elsie de Wolfe award from the American Institute of Decorators (1962); the Total Design and Designer of Distinction awards from the American Society of Interior Designers (1978 and 1982, respectively); and the Distinguished Designer award from the American Society of Furniture Designers (1986).
Clearly recognized as an innovator and leader of American design, Wormley was asked to lecture in New York City at the Architectural League and to teach at Parsons School of Design, which awarded him an honorary doctorate in fine arts in 1984.
Wormley, who died in 1995 after suffering two strokes, made an indelible mark on the history of American design. His collection of slides, now in the MFAH Archives, will offer generations of scholars, designers, and architects insights into the creative practice, influences, circle of friends and colleagues, and thought processes of a key figure in the development of Modernist design. Several designs by Wormley were selected for the exhibition The Spirit of Modernism: The John R. Eckel, Jr. Foundation Gift to the Museum of Fine Arts, Houston (August 20, 2011–February 20, 2012). If you are interested in scholarly research of the Wormley Collection, contact the MFAH Archives at archives@mfah.org for information.
Lorraine A. Stuart, C.A., is Archives Director at the MFAH Archives. One of the country's first museum archives, the MFAH Archives was established in 1984 with a grant from the National Historical Publications and Records Commission. The mission is to preserve and make available for research the museum's permanent records. Primary source material chronicles not only the history of the MFAH, but also the artistic and cultural development of Houston.