Internship & Fellowship Programs
Internship & Fellowship Programs
Overview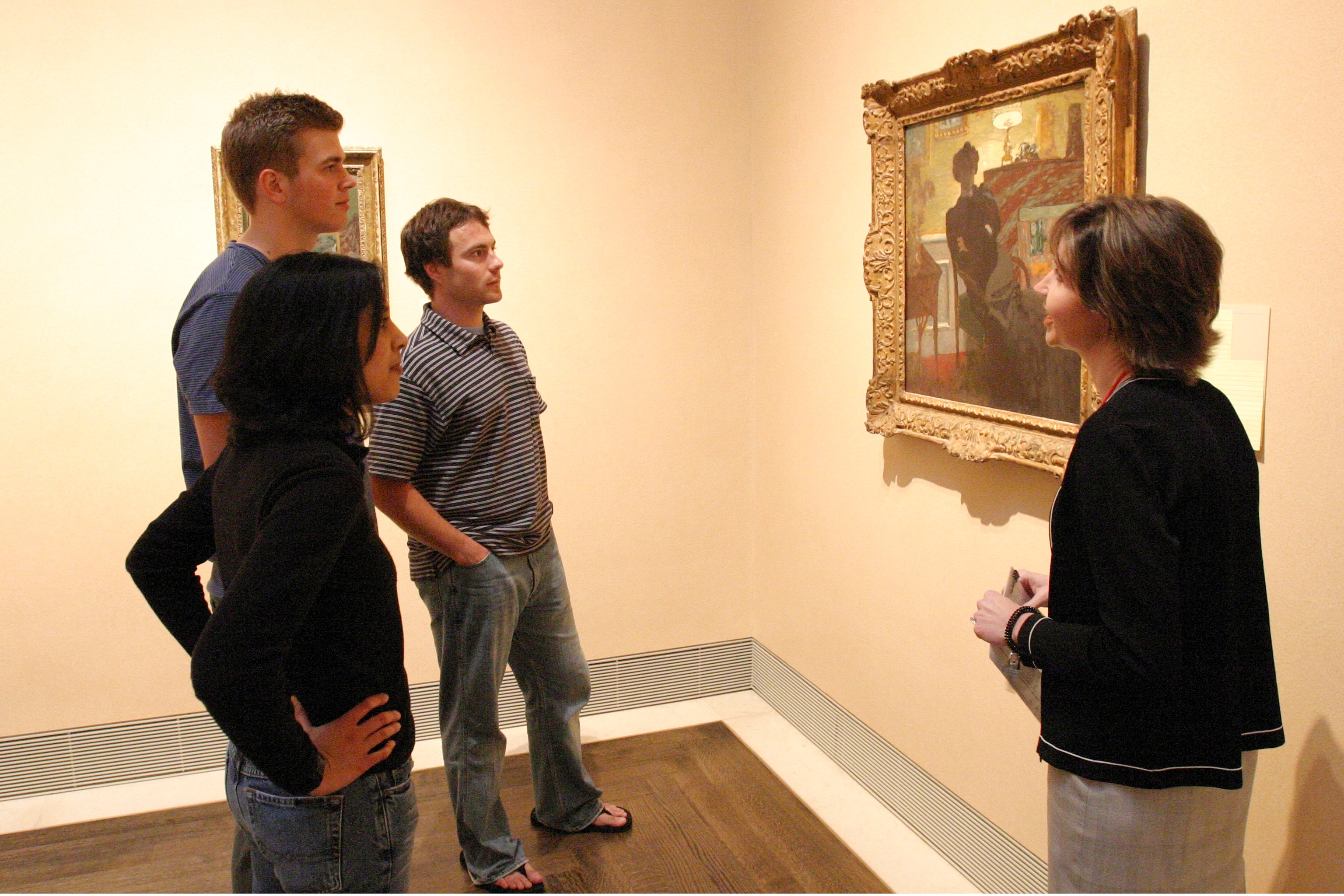 The MFAH internship and fellowship program provides specialized training and career readiness for undergraduate and graduate students, fostering the next generation of museum professionals and active community partners. Interns and fellows gain firsthand experience working on one or more meaningful projects under the guidance of staff mentors. Interns and fellows also have the opportunity to gain a broad understanding of diverse museum careers through regular professional-development presentations and outings.
The MFAH offers paid fellowships, academic-credit internships, and unpaid internships. Please see individual job descriptions for details about whether a position is paid, unpaid, or offered for academic credit. Access complete descriptions for positions at the links below.
For special-opportunity fellowships and residencies, see information about the Mellon Undergraduate Curatorial Fellowship and Summer Academy or learn about the Core Program and Dora Maar House.
The MFAH offers an exciting range of opportunities for both undergraduate and graduate level students for summer 2019! See the project descriptions linked below to learn about the many ways you can learn about museum careers under the mentorship of MFAH staff and contribute to the Museum's vibrant community.
Internships and Fellowships (stipends provided)
Application Instructions and Deadline
All candidates for MFAH internships and fellowships, are asked to complete an Internship Application Form.
Please see individual internship and fellowship job descriptions (linked above) for specific instructions regarding the additional application materials requested for each opportunity.
Please submit all application materials via email to interns@mfah.org. When sending application materials, please include the name of the internship/fellowship opportunity to which are you are applying in the subject line of your email.
► Deadline to apply for the MFAH summer 2019 internship and fellowship program: Wednesday, May 22, 2019
The Summer Internship Program at the Museum of Fine Arts, Houston, receives generous funding from the Center for Craft, Creativity, and Design; the Lubrizol Foundation; and Gifts in honor of Beth Schneider.
All Learning and Interpretation programs at the Museum of Fine Arts, Houston, receive endowment funds provided by Louise Jarrett Moran Bequest; Caroline Wiess Law; the William Randolph Hearst Foundation; Cyvia and Melvyn Wolff; the National Endowment for the Humanities; the Fondren Foundation; BMC Software, Inc.; the Wallace Foundation; the Neal Myers and Ken Black Children's Art Fund; Mr. and Mrs. A. L. Ballard; Mr. and Mrs. Charles W. Tate; the Eleanor and Frank Freed Foundation; Virginia and Ira Jackson; the Favrot Fund; Neiman Marcus Youth Arts Education; gifts in memory of John Wynne; and gifts in honor of Beth Schneider.