Self-Guided Visits for Schools
Self-Guided Visits for Schools
Self-guided visits are perfect for teachers who want to lead their own tours of the Museum. Groups are welcome to explore the MFAH art collections and any nonticketed exhibitions.
Self-guided visits require advance registration. Four weeks' notice is suggested, and two weeks' notice is required.
Self-guided visits are available year-round, Tuesday–Friday.
Self-guided vists are available at 11 a.m., and at 1 p.m. and later.
Each visit last 60 minutes; groups may schedule additional time if available.
Self-guided visits to the permanent collection and nonticketed exhibitions are free of charge for students and chaperones when booked four weeks in advance.
Self-guided visits to specially ticketed exhibitions are subject to admission fees. Learn more about the Museums' exhibitions.
A minimum of 10 students is required to book a self-guided visit.
The maximum number of students for a self-guided visit is 45 for nonticketed and ticketed exhibitions, and 75 for the MFAH collection. Schools who wish to bring groups larger than the maximum may request multiple self-guided visits in the same day.
To request a self-guided visit, e-mail tours@mfah.org.
Self-guided Visits for Ticketed Exhibitions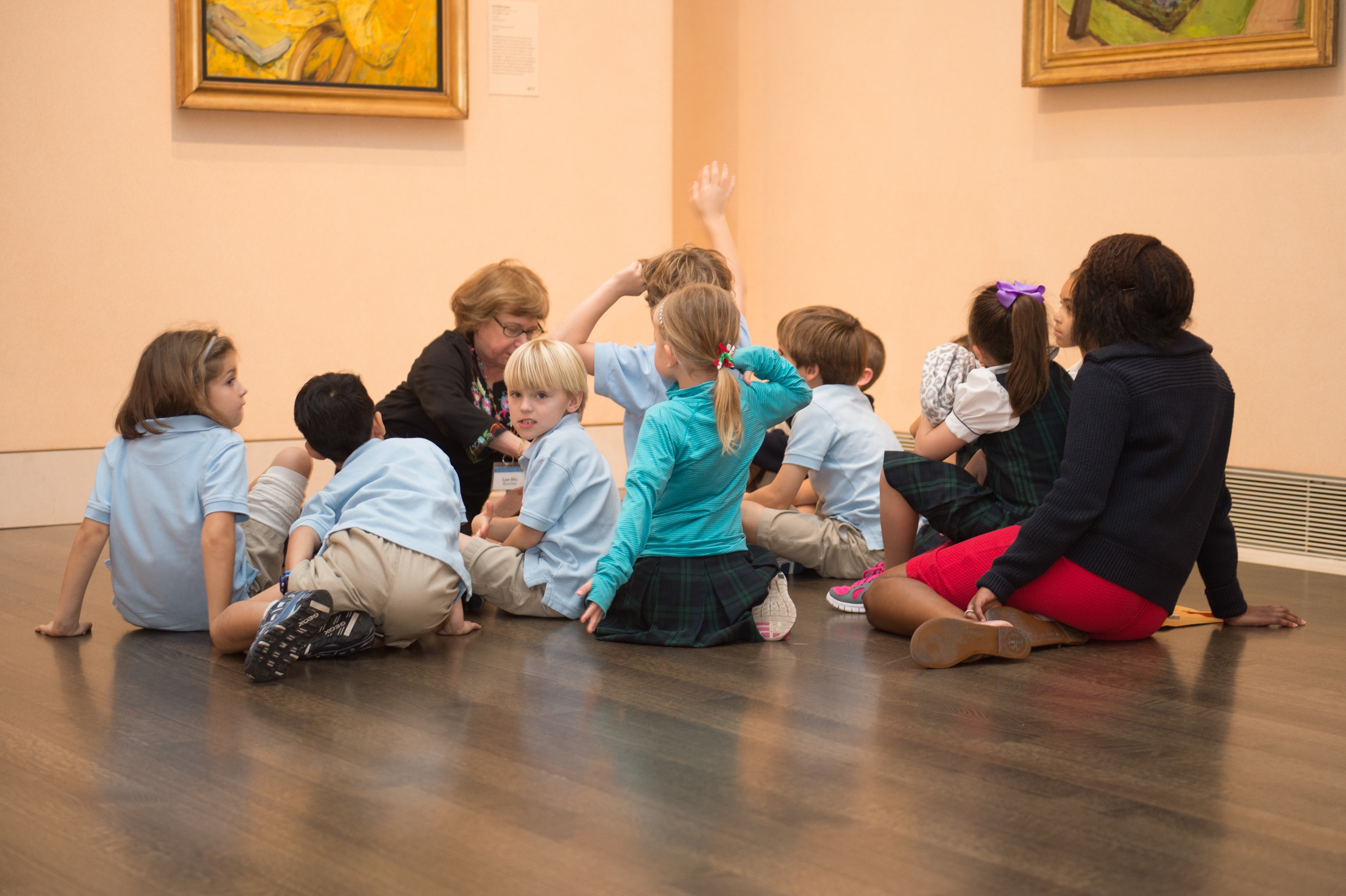 School groups receive discounted admission to ticketed exhibitions. Rates may vary from exhibition to exhibition. Payment must be received seven days prior to the scheduled tour date. Schools who do not submit payment in advance cannot pay on site on the day of their tour. Acceptable forms of payment include credit card or check. All purchases are final and refunds cannot be issued.
Available ticketed exhibitions:
► School tours must be booked through the Museum's learning & interpretation department. To request a self-guided visit to a ticketed exhibition, e-mail tours@mfah.org for more information.
How to Prepare for Your Visit
Please review the following important documents before your visit.
Tour FAQs Includes information on where to drop off and park, and eat lunch, photography permissions, late arrivals, cancellations, and more.
What to Do During a Self-Guided Visit
The MFAH offers resources to assist you as you guide your group through the galleries. From sketching supplies to downloadable resources, these options help deepen students' experiences with art.
With so much to see, how do you choose? Focus your students' experience with the following downloadable resources, which will guide you in selecting works of art to see on a self-guided visit.
Browse the Collection
Is there a particular artist or artwork you would like to see? Search our collection online by artist, date, and more.

Learning Through Art Online Curriculum
Learning Through Art at the Museum of Fine Arts, Houston connects the Museum's collections of world art into classroom curriculum for art, language arts, math, science, and social studies. LTA/MFAH bridges disciplines and curriculums to enable students to explore key concepts in the real world context of the art museum while teaching literacy and writing skills, math, science, and social studies. Use the Museum's elementary and middle school curriculum to integrate higher level cognitive skills, such as observing and organizing information, making predictions, and communicating ideas and thoughts with art inquiry methods to ultimately promote the students' development of 21st-century skills that are needed to succeed in the world. View the online curriculum.
The Power of Objects
Designed for secondary school students, this resource engages students in thinking about the many ways in which objects are powerful. Print a copy for each educator and chaperone in your group to use in the galleries as they guide students.
The Artist's Toolbox
Designed for elementary school students, this resources explores a few of the many "tools" in the Artist's Toolbox, such as scale, color, line, shape, figures, setting, and emphasis. The Artist's Toolbox includes a pack of gallery activities—such as creating a composition, exploring a work of art using the five senses, and sketching—that encourage students to look closely and think creatively about what they see. Print the Artist's Toolbox before your visit and share with the educators and chaperones who will lead your group. E-mail tours@mfah.org at least two weeks in advance to reserve the packs which will be delivered to you at check-in on the day of your visit.
What to See in an Hour
Any age group will enjoy seeing these highlighted works of art in the MFAH collections. Be sure to pick up a Museum map upon arrival. Please note that all works on the guide may not be on view when you visit.

Cullen Sculpture Garden Tour
Enjoy exploring the always-free Lillie and Hugh Roy Cullen Sculpture Garden with a self-guided resource for all ages. Please note that all works on the guide may not be on view when you visit.

Sketching in the Galleries on a Self-Guided Visit
Sketching from original works of art encourages students to look closely, while recording ideas and observations for further exploration in the classroom or studio. The Kinder Foundation Education Center provides free sketching materials to self-guided groups. To arrange to pick up sketching paper, hardboards, and pencils for your students at check-in, e-mail tours@mfah.org two weeks before you visit. Please note that all self-guided materials are for in-museum use only.
Explore more gallery resources in the Kinder Foundation Education Center.
The MFAH School Tour program receives generous funding from ExxonMobil.


Additional support is provided by the Junior League of Houston, Inc.
All Learning and Interpretation programs at the Museum of Fine Arts, Houston, receive endowment income from funds provided by the Louise Jarrett Moran Bequest; Caroline Wiess Law; the William Randolph Hearst Foundation; the National Endowment for the Humanities; the Fondren Foundation; BMC Software, Inc.; the Wallace Foundation; the Neal Myers and Ken Black Children's Art Fund; the Favrot Fund; and Gifts in honor of Beth Schneider.