Programs and Partners
Programs and Partners
The Art of the Human Body with Baylor College of Medicine
Taught by Museum staff and Dr. Ashok Balasubramanyam, this six-session elective uses the visual arts to strengthen and broaden the understanding of the human body. The course focuses heavily on improving observation skills, especially in terms of recognizing subtlety, symmetry and the effects of color, and reinforces the ability to articulate those observations accurately. Issues of ambiguity, bias and empathy are also addressed, and students have the opportunity to participate in a figure drawing session led by an MFAH instructor.
The Art of Observation with The University of Texas Medical School at Houston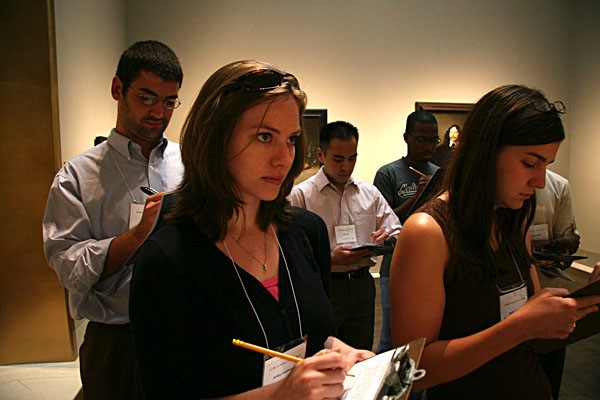 This three-session elective was developed in 2001 and now is a partnership between the MFAH and the John P. McGovern, M.D. Center for Humanities and Ethics at the University of Texas Health Science Center at Houston. The course is designed to enhance the observation skills of first and second year medical students attending the University of Texas Medical School and School of Dentistry at Houston. By examining works of art in the collection and medical photographs of UTHSC patients, students learn how to make better observations and improve the ability to articulate their findings. The course is co-taught by Museum staff and practicing physicians, and each session gives students the chance to look at original works of art and bridge their medical training to the museum experience.