MFAH Book Club Tours: Past Selections
MFAH Book Club Tours: Past Selections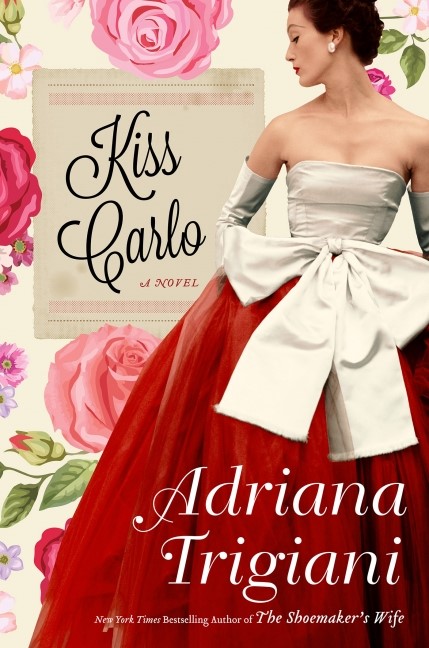 Art and literature meet at MFAH Book Club Tours. Selections are chosen to complement the Museum's art collections and exhibitions. To learn about the books that have been featured in this program, scroll through the listings below and see discussion guides.
Fall 2017
Kiss Carlo by Adriana Trigiani, an exhilarating epic novel of love, loyalty, and creativity, told against the backdrop of some of Shakespeare's greatest comedies. The MFAH partners with Houston Grand Opera on a six-year multidisciplinary initiative, Seeking the Human Spirit. The initiative is designed to highlight the universal spiritual themes raised in opera and to expand and deepen Houstonians' connections to both opera and art. As a part of this collaboration, the Museum of Fine Arts, Houston, has connected with our counterparts at Houston Grand Opera to trace connections between the HGO season opener, La traviata; the fall 2017 MFAH Book Club selection, Kiss Carlo; and artworks from the MFAH collections.
Summer 2017
The Last Painting of Sara de Vos by Dominic Smith
A New York Times best seller and New York Times Book Review Editors' Choice! "Across three continents and 400 years, Dominic Smith has spun a stunning tale of forgeries and deaths, deception and love, to reveal the lasting legacy of a fateful brushstroke. When Ellie Shipley, a young art student, agrees to copy the 17th-century painting At the Edge of a Wood, her future becomes irrevocably entangled with Sara de Vos, the artist whose work she forged. Weaving together the past and present lives of Sara and Ellie and their two paintings, Smith brilliantly transports readers from 1950s New York, to the moody Dutch countryside of the 1600s, to Sydney, Australia's sun-soaked harbor in 2000." —amazon.com
Spring 2017
Dreaming in Cuban by Cristina García
Cristina García's acclaimed book is the haunting, bittersweet story of a family experiencing a country's revolution and the revelations that follow. The lives of Celia del Pino and her husband, daughters, and grandchildren mirror the magical realism of Cuba itself, a landscape of beauty and poverty, idealism and corruption. Dreaming in Cuban is "a work that possesses both the intimacy of a Chekov story and the hallucinatory magic of a novel by Gabriel García Márquez" —The New York Times.
Fall 2016
Lisette's List by Susan Vreeland
In 1937 Lisette Roux and her husband, André, move from Paris to a village in Provence to care for André's grandfather Pascal. Lisette regrets having to give up her dream of becoming a gallery apprentice, but she soon discovers that the hilltop town is rich with unexpected pleasures, and that Pascal once worked as a frame maker, befriending Camille Pissarro and Paul Cézanne and trading his frames for paintings. Pascal begins to tutor Lisette in both art and life, and, inspired by his advice, Lisette begins a list of vows to herself (#4. Learn what makes a painting great). When war breaks out, André goes off to the front, but not before hiding Pascal's paintings to keep them from the Nazis' reach. With the fall of Paris, Lisette sets out to locate the paintings. Her search takes her through the stunning French countryside, where she will learn to forgive the past, to live robustly, and to love again.
Summer 2016
The Lady in Gold by Anne-Marie O'Connor
"Contributor to the Washington Post Anne-Marie O'Connor brilliantly regales readers with the galvanizing story of Gustav Klimt's 1907 masterpiece—the breathtaking portrait of a Viennese Jewish socialite, Adele Bloch-Bauer. The celebrated painting, stolen by Nazis during World War II, subsequently became the subject of a decade-long dispute between her heirs and the Austrian government. When the U.S. Supreme Court became involved in the case, its decision had profound ramifications in the art world. Expertly researched, masterfully told, The Lady in Gold is at once a stunning depiction of fin-de-siècle Vienna, a riveting tale of Nazi war crimes, and a fascinating glimpse into the high-stakes workings of the contemporary art world." —Amazon.com
Spring 2016
The Aviator's Wife by Melanie Benjamin
"When Anne Morrow, a shy college senior with hidden literary aspirations, travels to Mexico City to spend Christmas with her family, she meets Colonel Charles Lindbergh, fresh off his celebrated 1927 solo flight across the Atlantic. Enthralled by Charles's assurance and fame, Anne is certain the aviator has scarcely noticed her. But she is wrong. Charles sees in Anne a kindred spirit, a fellow adventurer, and her world will be changed forever. The two marry in a headline-making wedding. In the years that follow, Anne becomes the first licensed female glider pilot in the United States. But despite this and other major achievements, she is viewed merely as the aviator's wife. The fairy-tale life she once longed for will bring heartbreak and hardships, ultimately pushing her to reconcile her need for love and her desire for independence, and to embrace, at last, life's infinite possibilities for change and happiness." —Amazon.com
Fall 2015
An Unnecessary Woman by Rabih Alameddine
In this breathtaking portrait of a reclusive woman's late-life crisis, readers follow Aaliya's digressive mind as it ricochets across visions of past and present Beirut. Colorful musings on literature, philosophy, and art are invaded by memories of the Lebanese Civil War and Aaliya's own volatile past. As she tries to overcome her aging body and spontaneous emotional upwellings, Aaliya is faced with an unthinkable disaster that threatens to shatter the little life she has left. This is a heartrending novel that celebrates the singular life of an obsessive introvert, revealing Beirut's beauties and horrors along the way.
Summer 2015
All the Light We Cannot See by Anthony Doerr
Marie-Laure and her father live in Paris near the Museum of Natural History, where he works as master of the museum's thousands of locks. When she is 6, Marie-Laure goes blind, and her father builds a perfect miniature of their neighborhood so she can memorize it by touch and navigate her way home. When Marie-Laure is 12, the Nazis occupy Paris, and father and daughter flee to the walled citadel of Saint-Malo, where Marie-Laure's reclusive great-uncle lives in a tall house by the sea. With them they carry what might be the museum's most valuable and dangerous jewel.
Meanwhile, in a mining town in Germany, an orphan named Werner grows up with his younger sister. Enchanted by a crude radio they find, Werner becomes an expert at building and fixing radios, a talent that wins him a place at a brutal academy for Hitler Youth, and ultimately a special assignment to track the Resistance. More and more aware of the human cost of his intelligence, Werner travels through the heart of the war and, finally, into Saint-Malo, where his story and Marie-Laure's converge.
Spring 2015
The Pillow Book by Sei Shōnagon
"A thousand years ago, in a world in many ways unimaginably different from ours, a lady at the imperial court of Japan settled herself in front of a precious bundle of paper and began to write the extraordinary work later called Makura no sōshi, known to English readers as The Pillow Book. In it she wrote about her world, in a voice so vividly alive that we find ourselves in the presence of a woman we recognize as we would a friend. . . . As we read her apparently crazy quilt of vignettes and opinions and anecdotes, we find ourselves deep inside this world, and feel her responses along with our own nerves." —introduction by translator Meredith McKinney
Fall 2014
The Masterpiece by Émile Zola
This 1886 novel is set in France during the Second Empire, from 1852 to 1870, under the Imperial Bonapartist regime of Napoleon III. The Masterpiece tells the story of Naturalist painter Claude Lantier, who lives in a Bohemian world and strives to complete a masterpiece that reflects his talent and genius as a revolutionary. But he struggles to live up to his artistic potential. Though brilliant, Lantier is misunderstood and scorned by the art-going public because of their expectation for traditional subjects and styles.
Fall 2012/Winter 2013
In Country by Bobbie Ann Mason
Chosen to complement the exhibition WAR/PHOTOGRAPHY: Images of Armed Conflict and Its Aftermath, In Country is not a typical "war novel" with bullets, blood, tanks and terrorists. The story is set in the 1980s, as the war in Vietnam comes home to a young woman whose father was killed there before she was born. Readers see the after-effects of the conflict on the young woman; her mother's brother, a psychologically wounded veteran; and her paternal grandmother—all leading to a pilgrimage to the newly opened Vietnam Veterans Memorial.
Summer 2012
The Hare with Amber Eyes by Edmund de Waal
This is the true story of once-legendary wealth reduced to a few possessions, mainly a prized collection of 264 netsuke—decorative Japanese toggles—acquired by De Waal's ancestor in 1870s Paris, and handed down through the generations, to Vienna during the early 20th century, post-World War II Japan, and current day London, England.
An Artist of the Floating World by Kazuo Ishiguro (2 of 2)
An aging artist, Masuji Ono, is caught between two manifestations of Japan: the imperial movement that led his nation into World War II, and the devastation of postwar Nagasaki. Ono lives in a culture with strictly defined roles, and tries to reconcile "what is" with "what could be."
Note: This is the second of two discussion guides, focused on the exhibition Unrivalled Splendor: The Kimiko and John Powers Collection of Japanese Art (June 10 to September 23, 2012). The first discussion guide, for Spring 2012 (see below), recognized the opening of the MFAH Arts of Japan Gallery.
Spring 2012
Voices from the Other World: Ancient Egyptian Tales by Naguib Mahfouz
Naguib Mahfouz (1911–2006) is the only Egyptian writer awarded a Nobel Prize in Literature. These five short stories provide glimpses of his homeland's past. Weaving together tales of political power with magical realism and memorable characters, Mahfouz evokes the memory of an ancient world in tales that read like contemporary fiction.
An Artist of the Floating World by Kazuo Ishiguro (1 of 2)
An aging artist, Masuji Ono, is caught between two manifestations of Japan: the imperial movement that led his nation into World War II, and the devastation of postwar Nagasaki. Ono lives in a culture with strictly defined roles, and tries to reconcile "what is" with "what could be."
Note: This is the first of two discussion guides, recognizing the opening of the MFAH Arts of Japan Gallery. The second discussion guide, for Summer 2012 (see above), focused on the exhibition Unrivalled Splendor: The Kimiko and John Powers Collection of Japanese Art (June 10 to September 23, 2012).
Fall 2011
Cleopatra, A Life by Stacy Schiff
Pulitzer Prize–winning biographer, paints a vivid picture of the luxurious lifestyle of the Queen of the Nile, her twin roles as political leader and goddess, and the nail-biting plots and schemes that defined her world.
My Name is Red by Orhan Pamuk
Nobel Prize–winning Turkish novelist Orhan Pamuk offers a murder mystery set in sixteenth-century Istanbul. When a sultan commissions a group of talented artists to create a book celebrating his life and times, one of the artists disappears. Are there clues hidden in the images he created?
Summer 2011
Clara and Mr. Tiffany by Susan Vreeland
In 2005, art historians were astonished to learn from previously unknown correspondence that the exquisite stained glass lamps attributed to Louis Comfort Tiffany were most likely conceived and designed by Clara Driscoll, one of the "Tiffany girls" who labored anonymously in Tiffany workrooms in New York City. It was workers like Clara who created the lamps, vases, and windows—including the Museum's spectacular window A Wooded Landscape in Three Panels—that were Tiffany's signature styles.
Things Fall Apart by Chinua Achebe
Things Fall Apart tells two intertwining stories, both centering on Okonkwo, a self-made leader of an Igbo village in Nigeria. The first, a modern fable of the age-old conflict between the individual and society, traces Okonkwo's fall from grace. The second, as modern as the first is ancient, follows the impact of European missionaries on the traditions of the Igbo culture—many of which are richly depicted in the MFAH galleries of Sub-Saharan African art.
Spring 2011
The Autobiography of Alice B. Toklas by Gertrude Stein
From the time she moved to France in 1903 until her death in 1946, Gertrude Stein was a central figure of the Parisian art world. In her 1933 best-seller The Autobiography of Alice B. Toklas, Stein details her relationships with many now legendary artists and writers, among them Henri Matisse and Pablo Picasso, both represented by works in the MFAH collection from this seminal period of their careers.
The Great Gatsby by F. Scott Fitzgerald
In 1922, F. Scott Fitzgerald announced his decision to write ¨something new, something extraordinary and beautiful, simple and intricately patterned.¨ The result was The Great Gatsby, published in 1925, the story of Jay Gatsby, a self-made millionaire, and his pursuit of the American Dream, a story that unfolds in the galleries of American Art at the MFAH from the Manifest Destiny of the Hudson River School Painters to the triumph of Abstract Expressionism in the mid-20th century.
Fall 2010
The Death of Ivan Ilych by Leo Tolstoy
A concise yet complex book, The Death of Ivan Ilych (1886), confronts readers quite literally with matters of life and death. The novella focuses on Ivan Ilych who, at 45, falls ill and suffers a long, agonizing death. Until his illness, Ivan had never reflected on his life, and in his final days, he contemplates what it means to lead a meaningful life while slowly coming to acknowledge his own as artificial and empty. Related guided tours will highlight works across the museum's collection by artists who explore death and life through their art.
Pictures at an Exhibition by Sara Houghteling
Published in 2009, Pictures at an Exhibition is a historical novel, a family saga, a love story, and a meditation on the value of material beauty against the backdrop of war. Set in a Paris darkened by World War II, the novel tells the story of a son's quest to recover his family's lost paintings, looted by the Nazis during the occupation. Tours relate the book to works in the museum's European art galleries, particularly the Impressionist and Post-Impressionist paintings in the Museum's Beck Collection.
Summer 2010
The Age of Innocence by Edith Wharton
Set within New York´s Gilded Age, The Age of Innocence (1920) poses the question: how can a novel with "innocence" in its title be filled with such feverish longing and desire? Related tours highlight works in the MFAH's American and European art galleries.
The Awakening by Kate Chopin
One of the most influential American novels written, The Awakening (1899), centers on main character Edna Pontellier and her struggle to reconcile her unorthodox views on femininity and motherhood with the prevailing social attitudes of turn-of-the-century America. Related tours highlight works in the Museum's American and European art galleries.
Spring 2010
Lydia Cassatt Reading the Morning Paper by Harriet Scott Chessman
Prepare to be transported to the vibrant art scene of late nineteenth-century Paris in this richly textured portrait of the relationship between Mary Cassatt and her sister Lydia. It is a moving and revealing portrait of the free-spirited artist and the sister and model who lived—and died—with such courage, dignity, and grace. Related tours highlight Impressionist and Post-Impressionist paintings in the Museum's Beck Collection.
My Ántonia by Willa Cather
Originally published in 1918, My Ántonia is the intimate portrait of an American heroine, an elegy for a vanished frontier, and the story of a young man´s journey out of the innocence of childhood into adulthood. A book that uniquely captures the settling of the American frontier, My Ántonia complements works of art in the museum´s American art galleries.
Fall 2009
The Palace of Illusions by Chitra Banerjee Divakaruni
The Palace of Illusions (2008) transports us to a time that is part history, part myth, and fully magical. Written by Houston author Chitra Banerjee Divakaruni and narrated by Panchaali, the wife of the legendary Pandavas brothers in the Indian epic The Mahabharat, the novel offers a new interpretation of this ancient tale. Related tours highlight works of art in the Arts of India gallery.
The Private Lives of the Impressionists by Sue Roe
Monet, Manet, Pissarro, Cezanne, Renoir, Degas, Morisot, Sisley, Cassatt. Their works are familiar to even the most casual art lovers—but how well does the world know the Impressionists as people? This lively and thoroughly researched biography follows a fascinating group of artists into their Paris studios, through the streets of Montmartre, and into the boisterous riverside bars of a city undergoing monumental change. Related tours highlight Impressionist and Post-Impressionist paintings in the Museum's Beck Collection.