Core 2017–18 Critics in Residence
Core 2017–18 Critics in Residence
Kate Green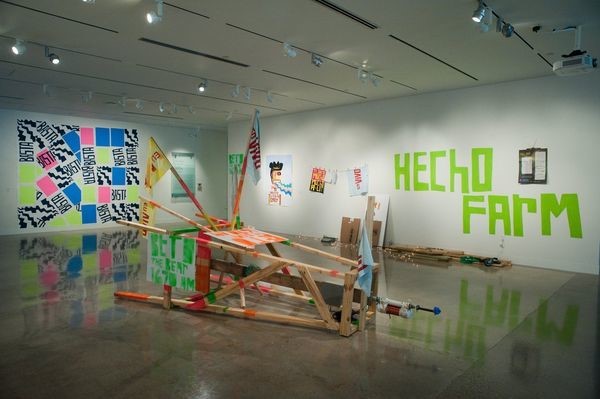 Kate Green is an art historian, curator, and critic. She holds an MA in curatorial studies from the Center for Curatorial Studies at Bard College, and a PhD in art history from the University of Texas at Austin. She has taught art history courses at the University of Texas and Trinity University, and has also worked as a curator and educator at Artpace, Dia Art Foundation, and MoMA PS1. Her writing has appeared in Art In America, Artforum.com, and Frieze. She is currently director of Marfa Contemporary in Marfa, Texas.
"I began researching the art historical, theoretical, social, technological, and economic factors conditioning the rise of institutional interest in performance art through my dissertation, 'Encountering Vito Acconci: Performing Conceptual Art circa 1970,' which I completed at University of Texas at Austin in summer 2016. More recently I have been pursuing the topic through writing for Art In America, Artforum.com, and other publications, as well as through developing and teaching a course for upper-division undergraduates titled 'How Did We Get to Tino Sehgal?'" —Kate Green
Ruslana Lichtzier
Born in Siberia, Russia and raised in Israel, Ruslana Lichtzier is a curator, writer, researcher, and educator. Her background as a migrant propels cultural productions that aim to nest radical imagination of difference and change. She is the initiator and codirector of Triumph School Manual Project in Triumph, Illinois, and of the project space Triumph, Chicago. Recent productions include the group exhibition The Dangerous Professors at Triumph, Chicago, and the research project in form of a group exhibition Terrorists in The Library at Harold Washington College in Chicago. She is the codirector of Jewish Artist Fellowship, at Spertus Institute for Jewish Learning and Leadership. She is also a contributor writer for The Seen Magazine. Most recently, she taught at the School of the Art Institute of Chicago and Spertus Institute.
"I was born in Russia, raised in Israel, and, reside today in the United States. As such, my production originates within a state of migration; a condition that shapes a desire to produce new cultural, politically charged products, while also being consistently burdened beneath the reconsideration of hegemonic canons. The work evolves by exceeding the limits of its given form, be it an exhibition, a publication or a lecture; each instance a stage providing a platform for multiple voices that refuse to be heard 'in-sync.'" —Ruslana Lichtzier
Laura Wellen
Laura A. L. Wellen makes texts and exhibitions which find points of connection between our emotional lives and our regional histories and landscapes. Since 2014, she has been working between Houston and Guatemala City, where she runs the apartment gallery and artist residency Yvonne. In 2017, her exhibitions include Hellen Ascoli: I woke early to comb the world and Jorge de León: En los prósperos días at Proyectos Ultravioleta; Una piedra y la lluvia // One stone and the rain at Lawndale Art Center; Lily Cox-Richard: If not an hongo at Yvonne; Caída Libre at Alianza Francesa Guatemala; and Acts of Aggression at Southern Methodist University. Her writing has been published in ArtForum, Art Lies, Artishock, Art Review, Arts + Culture Texas, and Pastelegram, among other international publications. She holds a PhD in art history and is a 2017 recipient of the Creative Capital | Andy Warhol Foundation Arts Writers Grant for her website, Piedrín.
"I am interested in the points of connection language creates between our emotional lives, our creative production, and the objects and images with which we surround ourselves. Much of my work has been about the interrelationships between artists and writers, between members of specific communities at particular historical junctures. In the end, criticism is about a life. It is about how we organize our thoughts about the world around us, before us, and behind us, and try to make sense of them in words, alongside objects, images, and experiences." —Laura A.L. Wellen