There is no archive in which nothing gets lost September 7–November 25, 2012
---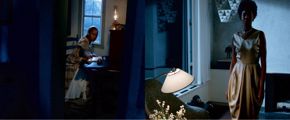 The MFAH Core Residency Program presents an exhibition that seeks to examine notions of "place" as explored through depictions of architecture, geographic locations, and memory. There is no archive in which nothing gets lost features works in video by Sonia Boyce in collaboration with Ain Bailey; Wangechi Mutu; and Lorna Simpson.
The three videos explore the ways in which relationships to environments, whether constructed or natural, are often predicated on the traces of past events that have become embedded in specific sites. These historical traces shape not only behavior but ultimately how people view themselves and others.
Oh Adelaide, a collaborative work by Boyce and sound artist Ain Bailey, incorporates found film of late jazz singer and entertainer Adelaide Hall. Mutu's Cutting, filmed in the U.S./Mexico border town of Presidio, Texas, addresses the history of violence in the area. Simpson's Corridor depicts two women: one within the context of the year 1860, which marks the beginning of the Civil War, and the other in 1960, which marks the passing of the Civil Rights Act.
► Learn more about the Core Critics in Residence at the Glassell School of Art.
---
The Core Program at the Glassell School of Art receives generous funding from:
The Joseph and Sylvia Slifka Foundation
Andy Warhol Foundation
The National Endowment for the Arts
The following donors have underwritten a 2012-2013 Core fellowship:
The Dickson-Allen Foundation
Jill and Dunham Jewett
Scurlock Foundation
Joan and Stanford Alexander
Leslie and Brad Bucher
Barbara and Michael Gamson
The Francis L. Lederer Foundation
Meredith Long
Cynthia and Robert McClain
The Powell Foundation
Karen S. Pulaski
The Arch and Stella Rowan Foundation, Inc.
Sean Rudolph and Brad Blume
Additional support is provided by:
Hamptons Expo Group, LLC
Lea Weingarten
Penelope Gonzalez and Lester Marks
Sara Paschall Dodd-Spickelmier and Keith Spickelmier
Heidi and David Gerger
Leigh and Reggie Smith
Reid Sutton and Brad Nagar
Cheri and Andrew Fossler
Toni and Jeff Beauchamp
Beverly and John Berry
Kelli and Eddy Blanton
Jereann Chaney
Sissy and Denny Kempner
Victoria and Marshal Lightman
Nancy Powell Moore
Judy and Scott Nyquist
Daucie and Marc Schindler
Louis H. Skidmore, Jr.
Raymond F. Stainback
Cynthia Toles
Hiram Butler and Andrew Spindler-Roesle
Kerry Inman and Denby Auble
Karol Kreymer and Robert Card
Gail Merel and Chris Dack
Dorothy Sumner
The Core Program receives endowment income from funds provided by:
Leslie and Brad Bucher
Eliza Lovett Randall
The children of Eliza Lovett Randall in honor of their mother
The Eleanor and Frank Freed Foundation
Herbert C. Wells and gifts in his memory
Gifts in memory of Warren A. Hadler
The Estate of Margaret H. Gillingham
Gifts in memory of Laura Lee Blanton