The Cyrus Cylinder and Ancient Persia: A New Beginning
—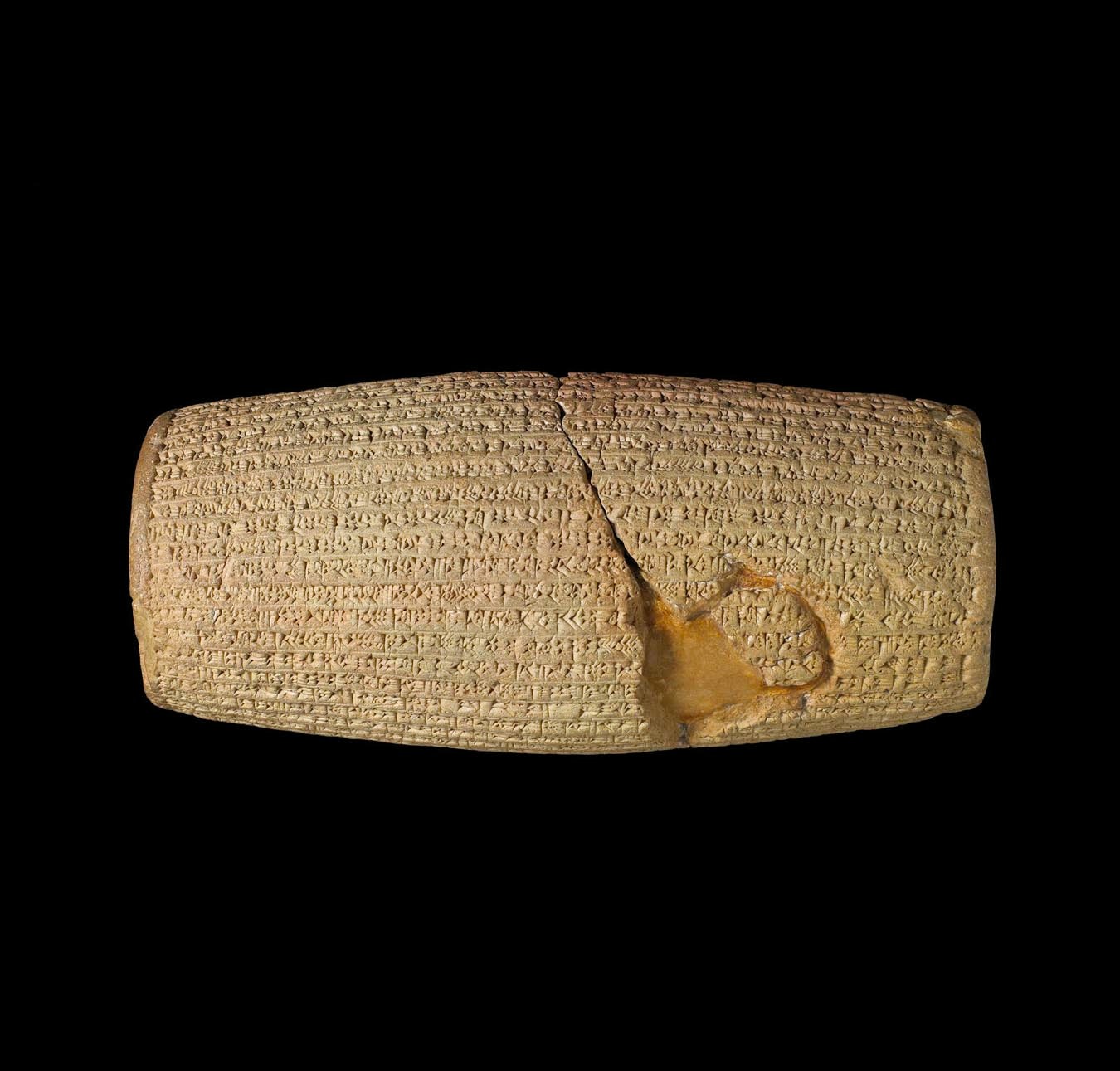 The Cyrus Cylinder—one of the most famous objects to have survived from the ancient world—comes to the MFAH on a limited U.S. tour. A touchstone of civilization, the Cyrus Cylinder is truly an object of world heritage, produced for a Persian king and seen and studied for more than 130 years in the British Museum.
Valued throughout the world, the Cyrus Cylinder is such a symbol of tolerance and respect for different peoples and different faiths that a copy is on display at the United Nations in New York. The Cyrus Cylinder was inscribed in Babylonian cuneiform—the earliest form of writing—on the orders of the Persian King Cyrus the Great. It is often referred to as the first bill of human rights because it appears to encourage freedom of worship and to allow deported people to return to their homelands. It was first found in Babylon (now Iraq) in 1879 during a British Museum excavation, and it has been on display at the British Museum ever since.
The Cyrus Cylinder and Ancient Persia: A New Beginning also features 16 works of art that are testimony to the innovations initiated by Persian rule in the Ancient Near East. A gold plaque from the Oxus Treasure with the representation of a priest shows the spread of the Zoroastrian religion at that time. Persian kings introduced a new writing system, Old Persian cuneiform, as seen on part of a column base from Hamadan and on the renowned seal of Darius. The kings also developed new forms of luxury goods, including beautifully decorated gold and silver bowls and sumptuous gold bracelets featuring fantastic animal shapes, some from the Oxus Treasure.
In-Gallery Extra: Audio Tour
Learn more about this important exhibition when you view it with the audio tour. Gary Tinterow, director of the MFAH, narrates six stops that offer a more in-depth visitor experience. Pick up the optional audio tour for $3 at the admissions desk or at the cart just outside the gallery space.
The Cyropaedia
Written in the early 4th century BC by Xenophon, a student of Socrates, the Cyropaedia describes the life of Cyrus and his development into one of the greatest rulers the world has ever known. Many of the U.S. founding fathers, including Benjamin Franklin and Thomas Jefferson, were inspired by this classic work. View the Cyropaedia online.
U.S. Exhibition Tour
The Cyrus Cylinder and Ancient Persia comes to Houston following the premiere at the Smithsonian Institution's Arthur M. Sackler Gallery in Washington, DC. Next, the exhibition travels to the Metropolitan Museum of Art in New York; the Asian Art Museum in San Francisco; and the J. Paul Getty Museum in Los Angeles. Learn more about the Cyrus Cylinder and the U.S. tour.
Exhibition Catalogue
Accompanying this exhibition is an illustrated catalogue, available through The MFAH Shop (713.639.7360) and the Museum's Hirsch Library (713.639.7325).