Virtual Lecture | "Collectivity in Art"
---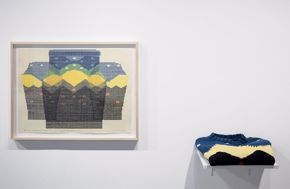 Conversations with Artists
This series brings MFAH curators together with artists whose works shaped the inaugural installations and special commissions for the Nancy and Rich Kinder Building. Admission is free.
"Collectivity in Art" looks at how the artists' work activates a sense of collective community that goes beyond time, space, and media. The program begins with artist Ellen Lesperance and prints & drawings curator Dena Woodall. Next, artist Teresa Margolles talks with Latin American art assistant curator Rachel Mohl. Then all four join in a group discussion to close out the program.
Via Zoom & Facebook Live
► Monday, October 11, 2021 / Watch the Video
About the Artists
American artist Ellen Lesperance is working on a project to translate the clothing worn by protesters during the 1980s Greenham Common Women's Peace Camp, a protest against nuclear weapons. Mexican artist Teresa Margolles investigates the social and aesthetic dimensions of conflict, and her Lote bravo comprises 400 adobe bricks she collected in Ciudad Juárez, where corpses of sexually abused women had been buried. The work of both artists is on view in the Collectivity installation on the third floor of the Kinder Building.
Save the Dates
The Ruth K. Shartle Lecture Series continues through December.
• Learn more and see the schedule.
---
The Ruth K. Shartle Lecture Series is made possible by a generous grant from The Brown Foundation, Inc.