Virtual Lecture | Artist Julie Mehretu
---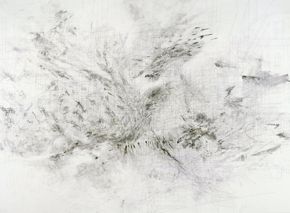 This series brings MFAH curators together with artists whose works shaped the inaugural installations and special commissions for the Nancy and Rich Kinder Building. Next up: Julie Mehretu in conversation with Alison de Lima Greene, curator of modern and contemporary art. Admission is free.
Via Zoom & Facebook Live
► Wednesday, September 29, 2021 / Watch the Video
About the Artist
Born in Ethiopia, Julie Mehretu lives and works in New York City. She was an artist-in-residence with the Glassell School's Core Program from 1997 to 1999. Her work—informed by a multitude of sources including politics, literature, and music—is layered with gestural marks and architectural, geographical, and historical symbols. Fragment, created in Berlin, echoes the city's troubled past and is on view in the Border, Mapping, Witness installation on the third floor of the Kinder Building.
Save the Dates
The Ruth K. Shartle Lecture Series continues through December.
• Learn more and see the schedule.
---
The Ruth K. Shartle Lecture Series is made possible by a generous grant from The Brown Foundation, Inc.