Virtual Lecture | Artist Aaron McIntosh
---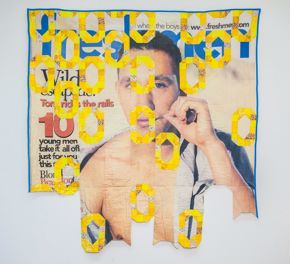 Next up in the Ruth K. Shartle Lecture Series: Aaron McIntosh joins decorative arts, craft & design curator Cindi Strauss and assistant curator Anna Walker in conversation. The 2021 edition of the series explores the question "What is contemporary art?" with artists whose work is on view in the Nancy and Rich Kinder Building. Admission is free.
Via Zoom & Facebook Live
► Thursday, May 13, 2021 / Watch the Video
About the Artist
Quilt maker Aaron McIntosh, a cross-disciplinary artist who grew up in rural Tennessee, reaches across generations with his work, mining the intersections of material culture, family tradition, sexual desire, and identity politics. In this virtual visit to the MFAH, McIntosh discusses the history and personal memories that inspire his quilts, such as Freshman Magazine, August 2002 Issue (Broken Links), which is part of the Collectivity installation on the third floor of the Kinder Building. He also talks about working with diverse communities on collective art projects throughout the country, including Houston, and takes us inside his Montreal studio for a look at a work-in-progress.
Save the Dates
The Ruth K. Shartle Lecture Series continues through December with virtual conversations featuring artists Christiane Baumgartner, Julie Mehretu, and Vik Muniz, among others.
• Learn more and see the schedule.
---
The Ruth K. Shartle Lecture Series is made possible by a generous grant from The Brown Foundation, Inc.