Virtual Lecture | Ancient Near Eastern & Islamic Art (Part 1 of 3)
---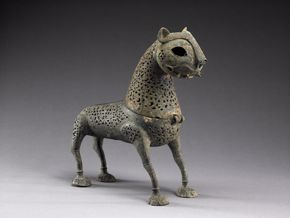 The MFAH presents a three-part series of lectures on the arts and cultures of the Ancient Near East and Islamic lands. Specialists from the field of Islamic art present talks on pre-Islamic, early Islamic, and later Islamic periods.
"The Ancient Near East before the Islamic Period"
(Part 1 of 3) Speaker: John Curtis, former keeper of the Middle East department at the British Museum; current CEO of the Iran Heritage Foundation; curator of exhibitions including The Cyrus Cylinder and Ancient Persia: A New Beginning, which traveled to the MFAH in 2013.
Live via Zoom
• Friday, April 9, 2021 at 11 a.m. Central Time
Save the Dates
• Friday, May 14, 11 a.m.
(Part 2 of 3) Speaker: Stephennie Mulder
• Saturday, May 15, 3 p.m.
(Part 3 of 3) Speaker: Nada Shabout
---
This lecture receives generous funding from the Levant Foundation and the Humanities Research Center at Rice University, in partnership with Art of the Islamic Worlds at the Museum of Fine Arts, Houston.