Lecture | New Beginnings: The Art of the Islamic Worlds Galleries
---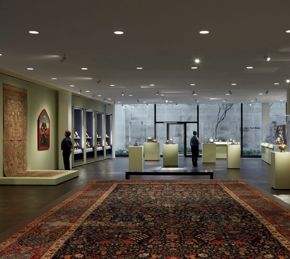 March 12, 2023
This talk explores the New Galleries for Art of the Islamic Worlds, comprising nearly 6,000 square feet. For the first time, the full MFAH holdings in Islamic art are on display, along with a significant selection of Persian masterworks on extended loan from the distinguished collection of Hossein Afshar. Carefully assembled over the past 50 years, the Afshar Collection conveys the rich artistic traditions of Iranian civilization from the 7th to 19th century in exquisite paintings, important ceramics, precious inlaid metal ware, and finely woven silk fabrics and carpets.
About the Speaker
Aimée Froom is curator for Art of the Islamic Worlds and codirector of the World Faiths Initiative at the MFAH. In 2020 she was a Center for Curatorial Leadership fellow. Her book publications include Bestowing Beauty: Masterpieces from Persian Lands—Selections from the Hossein Afshar Collection and Arts of Islamic Lands: Selections from The al-Sabah Collection, Kuwait.
Plan Your Visit
The lecture takes place in Lynn Wyatt Theater in the Kinder Building, with seating on a first-come, first-served basis. The galleries are in the Law Building. This program and entry to the galleries are included with general admission. On Sundays, the Museum is open 12:30 p.m. to 6 p.m.
---
Learning and Interpretation programs receive generous funding from the Institute of Museum and Library Services; Samuel H. Kress Foundation; The Brown Foundation, Inc.; Houston Livestock Show and Rodeo; Houston Junior Woman's Club; Sharon G. Dies; Sterling-Turner Foundation; Susan Vaughan Foundation; and additional generous donors.