Gallery Concert "Bach Concerti for Oboe and Strings"
---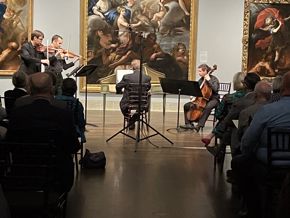 Gallery Concert "Bach Concerti for Oboe and Strings"
Surrounded by masterwork paintings from the time period of Johann Sebastian Bach's life (1685–1750), musicians from Bach Society Houston perform the composer's virtuosic concertos for oboe and strings.
Helga Aurisch, curator of European art and president of Bach Society Houston, provides brief commentary linking the music selections to works of art in the gallery.
Program
"Concerto for Oboe in F Major, BWV 1053R"
"Concerto for Oboe and Violin in C Minor, BWV 1060R"
Featured Performers
Kristin Olson, Oboe
Oleg Sulyga, Violin
Tickets
$50 General Admission
To purchase, email Linda Marx at lmarx@bachsocietyhouston.org or call Bach Society Houston at 713.400.0514. On the evening of the concert, any remaining tickets go on sale in the Beck Building lobby at 6 p.m.
Plan Your Visit This event takes place on the second floor of the Beck Building. On Sundays, the Museum is open from 12:30 p.m. to 6 p.m.
Safety Guidelines In the interest of your personal safety and community health, please observe all precautions set forth by the MFAH—learn more here.
---
Learning and Interpretation programs receive generous funding from the Jerold B. Katz Foundation; H-E-B; MD Anderson Cancer Center; Institute of Museum and Library Services; The Brown Foundation, Inc.; Houston Livestock Show and Rodeo; Sterling-Turner Foundation; Susan Vaughan Foundation; and additional generous donors.