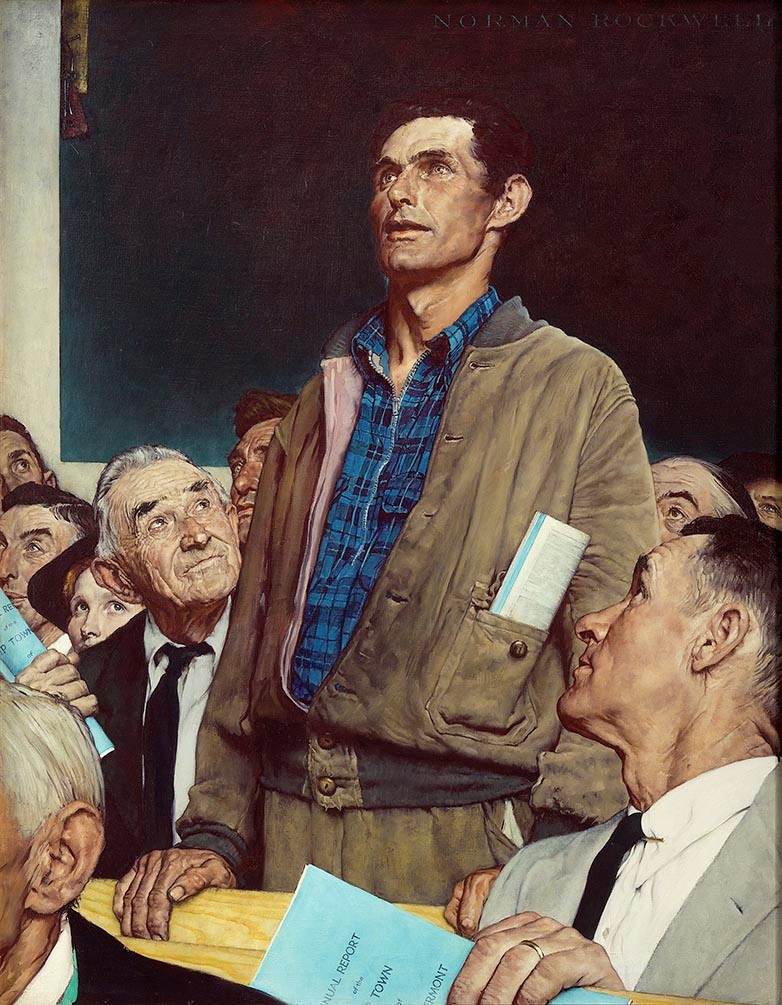 Presented by Brian Allen, former chief curator at the Clark Art Institute, Williamstown, Massachusetts, in conjunction with the exhibition Norman Rockwell: American Freedom
Norman Rockwell's Freedom of Speech is among the most famous works of American art. A beautifully designed picture that expresses a timeless and powerful message, it has been popular from the start. Millions of copies of the illustration circulated during World War II, and Freedom of Speech is resilient: It continues to serve as a go-to image for causes related to freedom of thought, the press, assembly, speech, the sanctity of the written and spoken word, and the role of community cohesion.
Yes, it is propaganda, but Freedom of Speech is also a fine and significant work of art, and it belongs to that rarest of categories in Rockwell's work: based on a specific event. Many of Rockwell's illustrations contain newspaper clippings, calendars, and other time-specific objects that help to set a fictional scene in a time and place. Freedom of Speech is different in that it dramatizes an event that actually happened—an event Rockwell witnessed himself.
This talk explores how Rockwell turned a specific incident at a local town meeting into a universal experience symbolizing both the rights of the individual and the critical distinction between democracy and despotism.
Drop in! This lecture is free. On Thursdays, general admission is free courtesy of Shell Oil Company. Seating is available on a first-come, first-served basis.