Drop-in Tour | Get to Know Modern and Contemporary Art
---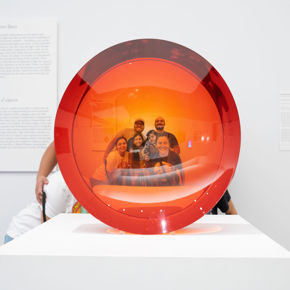 November 2023
Immerse yourself in newly installed works of art, as well as old favorites and site-specific commissions, in the Nancy and Rich Kinder Building.
Housing the MFAH collection of modern and contemporary art from around the world, the Kinder Building opened in November 2020. This third gallery building is the final component in an eight-year project to expand the Museum's campus and showcase the ever-growing collection.
Plan Your Visit
This guided tour is included with Museum admission. Meet your docent in the lobby of the Kinder Building.
---
All Learning and Interpretation programs at the Museum of Fine Arts, Houston, receive generous support from Macey and Harry Reasoner; the Claire and Theodore Morse Foundation; and the Texas Commission on the Arts. Endowment funds are provided by the Louise Jarrett Moran Bequest; Caroline Wiess Law; Windgate Foundation; the William Randolph Hearst Foundation; Cyvia and Melvyn Wolff; the National Endowment for the Humanities; the Fondren Foundation; BMC Software, Inc.; the Wallace Foundation; the Neal Myers and Ken Black Children's Art Fund; Mr. and Mrs. A. L. Ballard; Mr. and Mrs. Charles W. Tate; the Eleanor and Frank Freed Foundation; Virginia and Ira Jackson; the Favrot Fund; CFP Foundation; Neiman Marcus Youth Arts Education; gifts in memory of John Wynne; gifts in memory of Peter Lotz; and gifts in honor of Beth Schneider.
General admission to the MFAH is free on Thursdays, courtesy of Shell USA, Inc.