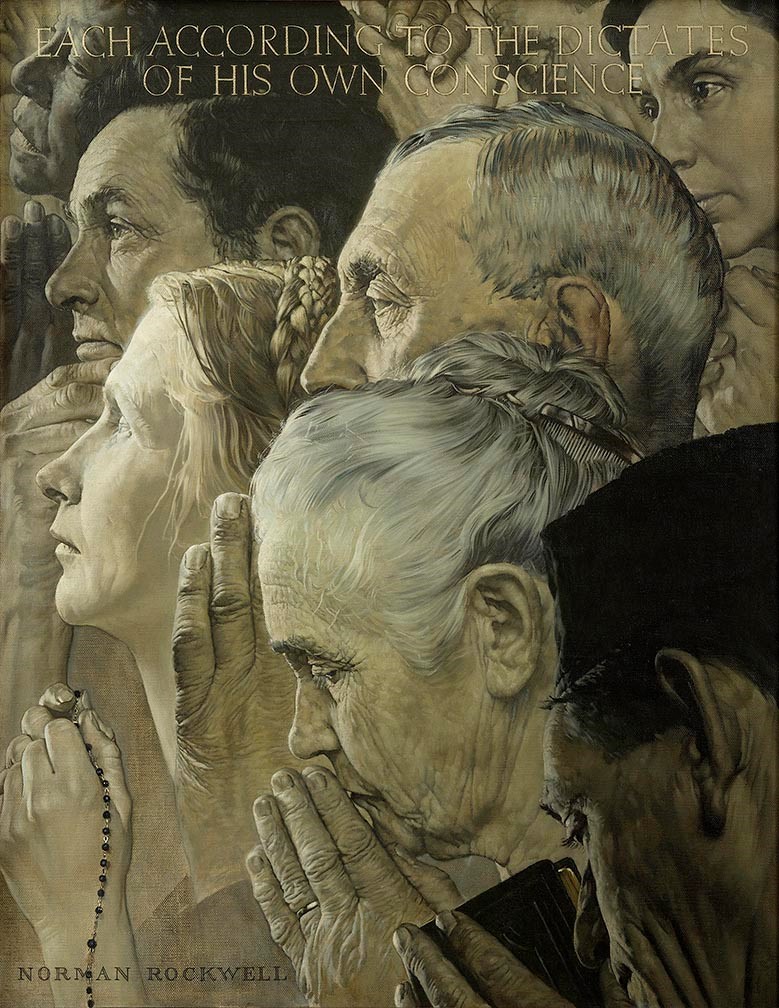 Presented by Stephanie Haboush Plunkett, deputy director and chief curator of the Norman Rockwell Museum, in conjunction with the exhibition Norman Rockwell: American Freedom
This talk offers an in-depth exploration of Norman Rockwell's art for civil rights across the decades. In the early 1940s, FDR made clear that the Four Freedoms were "no vision of a distant millennium." As World War II came to a close, the Allies began planning for the United Nations, and Eleanor Roosevelt championed the Four Freedoms as a summation of democracy and human rights. Enshrined in the 1948 Universal Declaration of Human Rights, these ideals arose from the ashes of war to affirm the precious nature of freedom, everywhere in the world.
As evidenced in his Four Freedoms paintings, Rockwell wanted to make a difference with his art, and as a trusted and marketable illustrator, he had the opportunity. In the 1960s, leaving behind his beloved storytelling scenes, the artist documented and reflected upon America's most pressing social concerns.
After ending his 47-year career with the Saturday Evening Post, he took on new challenges in works like The Problem We All Live With for Look magazine. This simple assertion on moral decency is inspired by Ruby Bridges, a 6-year-old African American girl who became the first to desegregate New Orleans public schools. In 1965, Rockwell focused on the murder of three civil-rights workers, and in 1967, he chose children, once again, to illustrate the integration of U.S. suburbs.
Drop in! This lecture is free. Seating is available on a first-come, first-served basis.