Tips for Visitors on the Autism Spectrum April 10, 2018
---
April is Autism Awareness Month, and we've created this list of tips for visitors who are on the spectrum, and guests who accompany them.
Preparing for your visit a few days in advance can help you have the most enjoyable experience possible. We hope these tips are useful!
TIPS FOR VISITORS OF ALL AGES ON THE SPECTRUM
Getting Here
The Museum has two public parking garages. Go to mfah.org/parking for locations and rates.
You may enter the Museum through either of the two Museum buildings: the Audrey Jones Beck Building at 5601 Main Street or the Caroline Wiess Law Building at 1001 Bissonnet.
The Museum is open during these hours. We recommend that you check the website the day you plan to visit, in case of any changes to the regular schedule.
Admission
General admission is always free for children 12 and younger, and it's free for everyone on Thursdays! General admisison is also free to visitors who are age 18 or younger and visiting on a Saturday or Sunday with a library card from any public library in Texas. Learn more about admission fees.
Crowds
The MFAH can be quite busy, and some areas can become crowded—especially on Thursdays, when general admission is free and the Museum is open late, until 9 p.m. Attendance is generally lighter earlier in the day, particularly on Tuesdays, Wednesdays, and Fridays.

The Museum Is Large!
The Museum spans two buildings, with more than 300,000 square feet of gallery space. Take a look at the gallery map before your visit to determine which areas of the Museum you might be in interested in exploring.
Also make note of restroom and elevator locations. If you need directions to a specific place when you are here, our friendly guest services associates and security guards can assist.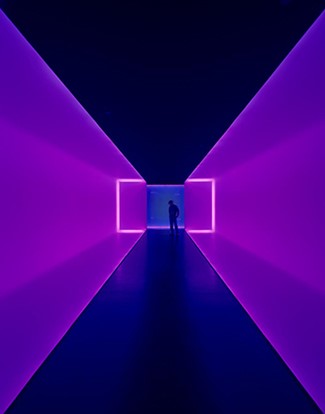 Stimulating Areas
Some areas of the Museum are particularly stimulating, and you may encounter projected images or amplified sounds. These areas will change based on what art is currently on view. You might consider bringing earplugs or noise-canceling headphones in case the noise is overwhelming. Also, take note of the Museum's resting/quiet places below.
Museums are often kept darker than other types of buildings. Light levels may be low because light can damage art objects like textiles and works on paper.
One particular area to be aware of is the Wilson Tunnel that connects the Museum's two buildings. This tunnel includes a work of art, The Light Inside by James Turrell (pictured above), which features a darkened passageway with neon lights and an optical illusion. If you wish to avoid this area, you can exit the Museum at the ground level and walk across Main Street to reach the next building.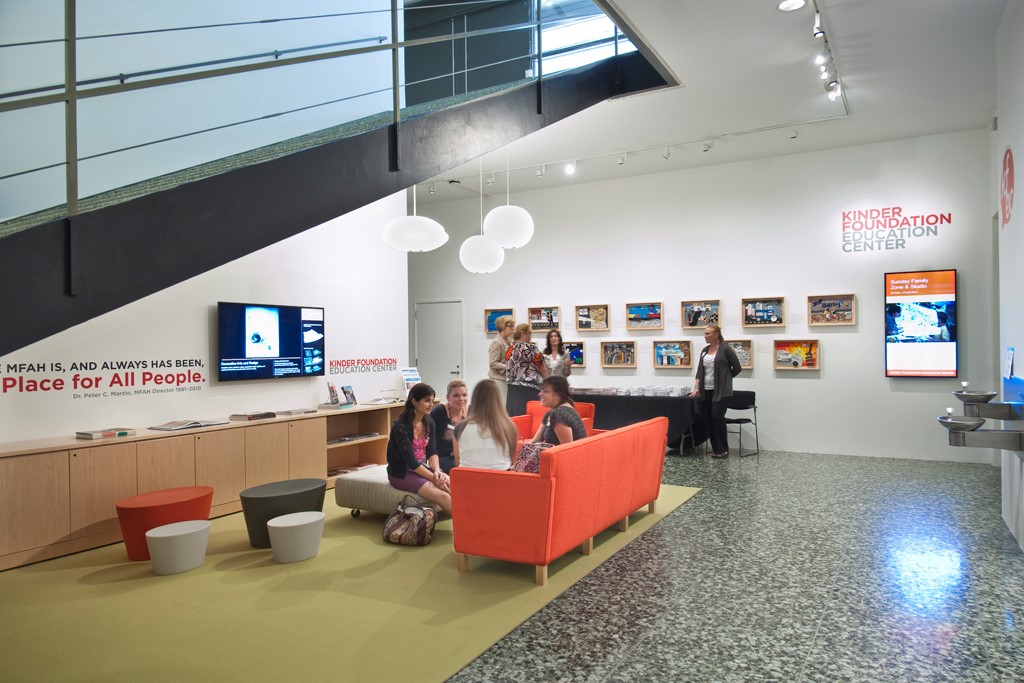 Resting Places
Benches are stationed throughout the Museum if you want to take a break. Need help locating one? Just ask a friendly guest-services associate or security guard.
You may also want to visit the Kinder Foundation Education Center (pictured above). This area, located on the lower level of the Caroline Wiess Law Building, has several comfortable chairs and couches, as well as books and art activities.
The MFA Café can be quite busy at lunchtime, in the evenings, and on Thursdays. Otherwise, it is usually fairly calm.
Temperature Variations
Temperatures will vary as you move throughout the Museum. Some areas can be quite chilly. It's best to bring a sweater or jacket, even if it is warm outside.
Is there something we missed? We'd love to hear your perspective. Contact us at accessibility@mfah.org with any ideas or questions. You may also check our Visiting Guidelines for more information.
Recent Posts