Making Holiday Magic, One Track at a Time December 15, 2016
---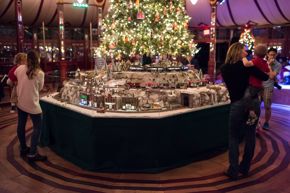 For the past three months, Steve Pine, senior conservator of decorative arts, has been hard at work constructing a model train set from scratch. He spoke with me about the process behind this magical work, which made its debut at the center of the Spiegeltent for this year's Christmas Village at Bayou Bend.
How did you create the model train set?
I built the support and wired up the electrical system to power the trains and lights, and we obtained the toy trains, tracks, and little buildings from sources such as Lionel Trains and M.T.H. Electric Trains.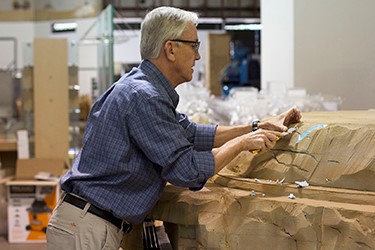 Steve Pine adds details to mountains sculpted from scratch.
When designing and creating the model, I kept in mind ease of disassembly for transport and storage. Four tables are joined to support the mountain, which I built in sections that can be fitted around the 12-foot Christmas tree at the center of the Spiegeltent. To sculpt the mountain, I glued together layers of Styrofoam planks—the same planks normally used to insulate homes—and decorated the foam with paint, flexible grout, and miniature trees.
What would you like to highlight for visitors viewing the trains at Christmas Village?
There are three trains, each of which has its own character. The realism and attention to detailing of the coaches and locomotives is incredible. One of the two steam-engine trains is based on the film The Polar Express: The voice of the train conductor (Tom Hanks) booms lines from the movie while the locomotive blows smoke rings. The diesel-engine train is based on the storied Texas Special run by the Missouri-Kansas-Texas Railroad. It features a realistic start-up progression of sounds with coaches dedicated to notable Texans, including Sam Houston, Edward Burleson, and David G. Burnet.

The trains blow smoke and makes sounds: bells, whistles, and engine noises.

The buildings, by the manufacturer Department 56, add a lot of character too. Some of the structures we're using for the display are also for sale at the Shop at Bayou Bend.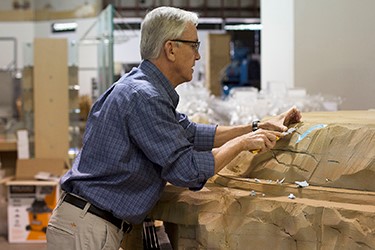 The little buildings offer a wealth of detail.
Is there anything else you'd like to add?
I'd like to think the trains will stir up fond childhood memories in adults and kindle a new interest for children. While building the model, I often imagined what my granddaughter would enjoy most. At age 2, she finds trains of any size amazing and a treat almost beyond belief.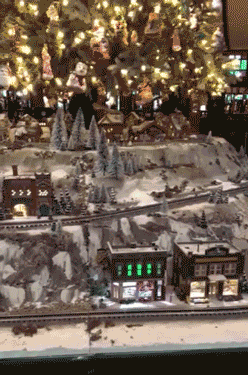 See the model train set for yourself! Christmas Village at Bayou Bend is open through January 1.
Special thanks to Department 56.
Recent Posts