Customize Your Art Experience May 27, 2015
---
So you've already taken the Museum's guided tours, attended the public lectures, and explored the publications at the libraries, but still haven't satisfied your art fix?
Plan an experience at the Works on Paper Study Center, where more than 40,000 prints, drawings, and photographs are stored. Curators use the study center to experiment with themes for future exhibitions, but that's only part of the facility's purpose—individuals, educators, and small groups of art lovers are welcome, too.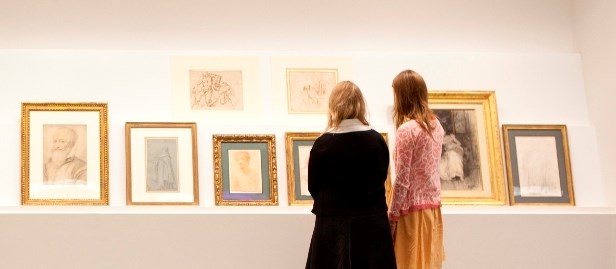 Whether you're interested in an up-close view of hatch marks on a Rembrandt, or a survey of form by artists such as Guido Reni, the study center offers catered visits. Start by making an appointment, and you're on your way.
Sessions last about an hour and a half, and they include a custom display of up to 12 works of art. Presentations are prepared according to visitors' interests, so prior to your appointment date, you'll consult with the study center's staff via phone or e-mail about what you'd like to see.

If you want to explore watercolors, for example, the staff may suggest themes such as 20th-century art, use of negative space, or a survey from the past 500 years. Interested in looking closer at prints? Perhaps you'd like to investigate the different states of prints and how artists modify their work after the first pressing.

Museum staff draw from the digital database, as well as their own knowledge of the art collections, to find striking examples by a range of artists—from the most famous names in art history to notable Houston artists.
"Through direct exposure to the works at the center, visitors are encouraged to learn more about the art and to return to the Museum often," explains curatorial assistant Lauren Rosenblum. "The Works on Paper Study Center is an indispensable resource for telling the visual story of works on paper."
The center is open on weekdays, and you're encouraged to make your appointment about a month in advance. Handy tip: protecting the artwork is top priority, so lockers are provided for you to secure personal items like pens, bags, jewelry, and long scarves before you enter the study center.
► Check out all the details here, and set up your visit!