Chairs Are People If You Think About It: Q&A with Artist Cary Fagan March 2, 2020
---
On Thursday evening, March 12, Houston artist Cary Fagan leads Art Encounters "Chairs Are People." Inspired by the exhibition Radical: Italian Design 1965–1985, this free event invites you to participate in chair-stacking. What is chair-stacking? Let's ask!
Chair-stacking is a unique expression of art. How did you develop this concept? Are you the only artist using chairs as a medium?
It's insane. Sometimes I think I could be one of the few. Or who knows, maybe the only one. There are so many people in the world. This developed as I got over thinking that photography was going to be my final output.
Do you have a favorite work in Radical: Italian Design 1965–1985, The Dennis Freedman Collection?
Yes, the Pratone grass chair—there is something so unique about this piece. The last time I saw it in person was at the Triennale Milano in Milan, Italy.
"If you could replace Mother Nature artificially, is this what it would look like?"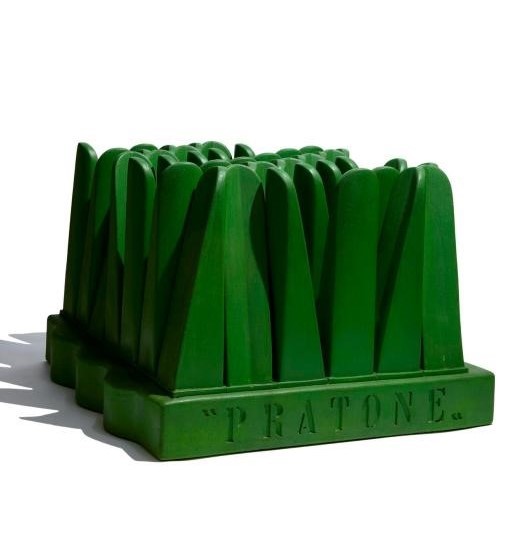 What do you hope visitors will take away from this "Art Encounters" experience?
Art truly happens when people participate in it, and a museum comes to life when people interact with it. I want to challenge the perception of teaching and learning. Manipulating social, physical, and emotional space affects how people engage with objects or ideas, and each other. I want this experience to challenge people to make a decision, interpret the performance for themselves.
"Come with an open mind."
You believe there is much more to a chair than its function. Can you expand on this thought?
Chairs are people if you think about it.
The kanji for "chair" in Japanese means strange wood child:
椅 = 木 wood 奇 strange. 椅子は人です
Okay, now think about this: an empty chair is a space for possibility. We all have a connection with this object, whether we want to admit it or not.
What is your process for documenting the sculptural outcome of chair-stacking?
The process is simple when it comes to documenting the sculpture outcome; everything before that is a blur. Of course I can tell you it's challenging, but I can admit I am still trying to grasp that feeling to explain the next time this question comes around.
"For now I get lost . . ."
► Intrigued? Join Cary Fagan for Art Encounters "Chairs Are People" on Thursday, March 12, from 6 p.m. to 8 p.m. Admission is free!