Conservators use a variety of imaging techniques on works of art to gather information that can't be seen by the naked eye. One option is producing florescence, or glow, with ultraviolet A light—the type of ultraviolet light with the longest wavelength. UVA light not only produces stunning visual effects, it can also provide valuable insight on an artwork's structure, history, and more. I was invited by the MFAH conservation department to give a workshop to discuss making the technique of UVA radiation easier and more accessible to the Museum's staff.
Looking for Clues
Many natural materials produce fluorescence when exposed to radiation from UVA light. The color and intensity of this florescence can range widely, which helps conservators and conservation scientists distinguish materials used in art. As you see in the photos below, UVA radiation can increase the visibility of coatings and old repairs. The technique also helps differentiate pigments used by artists and provide key information about past light exposure, which in turn provides clues about where the artwork came from and where it's been.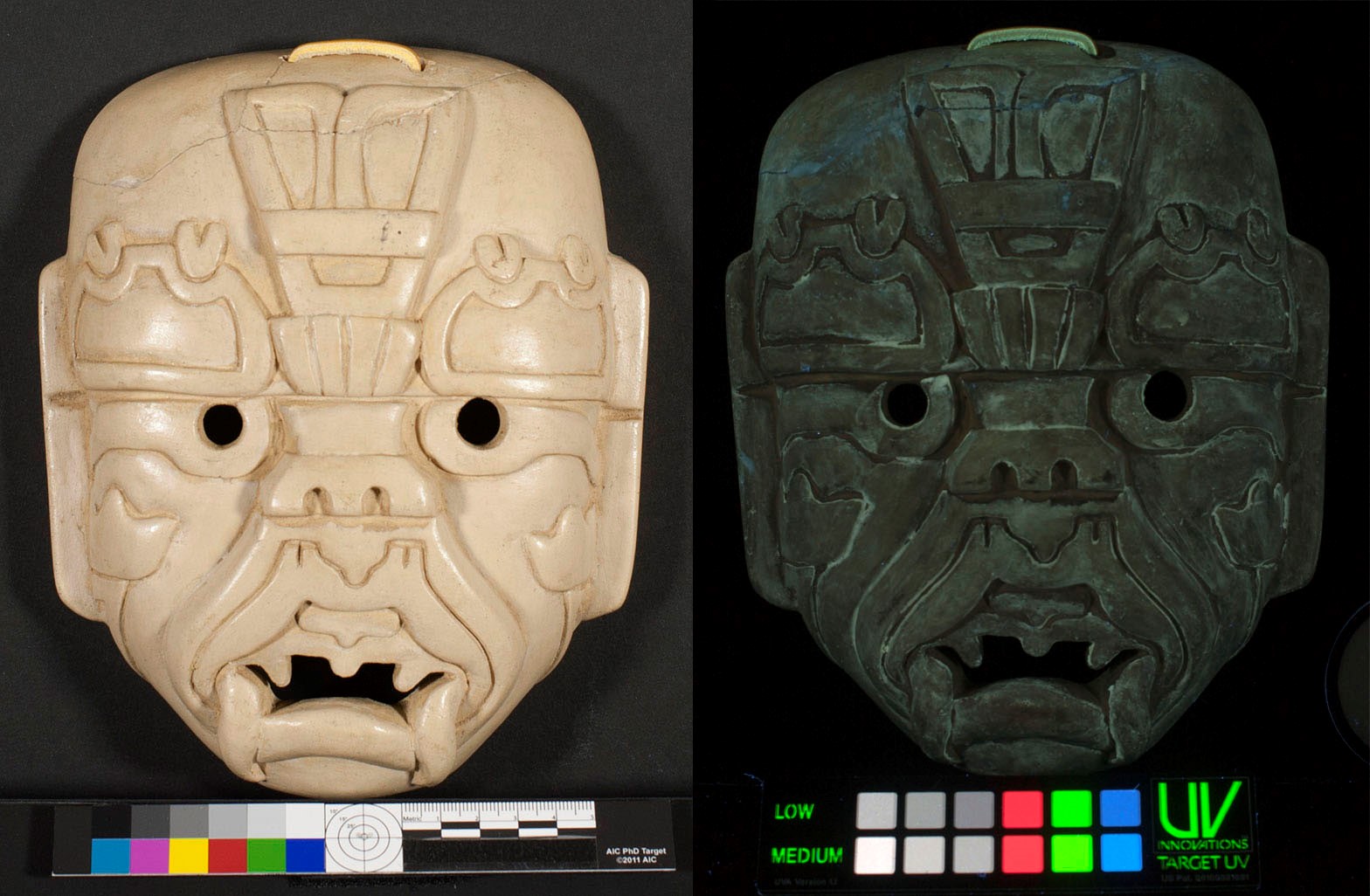 Left to right: South American mask seen in normal light and UV-visible light
Applications beyond the Art World
UV-visible pigments are also used in security applications, such as passports, currency, and driver's licenses. These pigments act as a security feature because they are difficult to counterfeit and can reveal manipulation of important information quickly, using simple tools.

Currency and ID cards under UVA radiation
Result: A New Tool
Our workshop at the MFAH focused on using the new Target-UV tool to help conservation staff capture accurate records of UV-visible fluorescence. This accuracy allows the images to be meaningfully compared, understood, and re-created by other conservation professionals: a previously unattainable goal due to the nature of UV-visible fluorescence and differences in approach and equipment. The MFAH team provided important feedback for the development of this tool, which is now part of the Museum's toolkit for conservation imaging.



The top images of these two Ralph Albert Blakelock paintings—Afterglow on the left, Moonlight on the right—are the paintings shown using the new Target-UV tool.
New Uses at the MFAH
An example of a recent MFAH project that uses this technology is in the evaluation of work by Ralph Albert Blakelock. The American artist is known for his technique of mixing oil paint and varnish layers continually while painting, so his finished works often have dark, atmospheric areas that display variations of matte and gloss that can be difficult for the viewer to distinguish. Only through examination with UV illumination can conservators see brushwork and details with total clarity, and using the UV target allows these two paintings to be compared together without fear that different lighting conditions may have affected what the conservator can see and evaluate.
Want to see more up-close looks at conservation projects? Check out Selected Case Studies for highlights.