The Glassell School of Art's Sandie Zilker—longtime instructor and associate dean of student activities—has seen the Glassell School through moves to three new buildings over the course of her career: from the 1979 glass-block building on the MFAH main campus near the Cullen Sculpture Garden; to the temporary space at 2450 Holcombe Boulevard; and, soon, back to the Museum's main campus in the new Steven Holl–designed building.
With the grand opening of the new building and adjoining Brown Foundation, Inc. Plaza just weeks away, I chatted with Zilker about the Glassell Studio School's new location, as well as some exciting possibilities that the future holds when the Studio School for adults resumes classes this fall.
What does a new Glassell School of Art mean to you?
When we moved into the original building in 1979, I witnessed the profound impact it had on the school. Thirty-five years of teaching, making, and showing art enthusiastically used up that building. Now, we're poised to make another transition—to a striking space that raises a mature school to an even more prominent place in the MFAH, in Houston, and within our art communities. I am excited and fortunate to experience that a second time!
What are you most looking forward to in the new building?
For the first time, we have a dedicated space to show student work in a professional setting, so I look forward to consistently displaying student work to the public.
Another major architectural feature I look forward to is the grand staircase. It was designed with the idea that a lot of mixing and mingling would happen.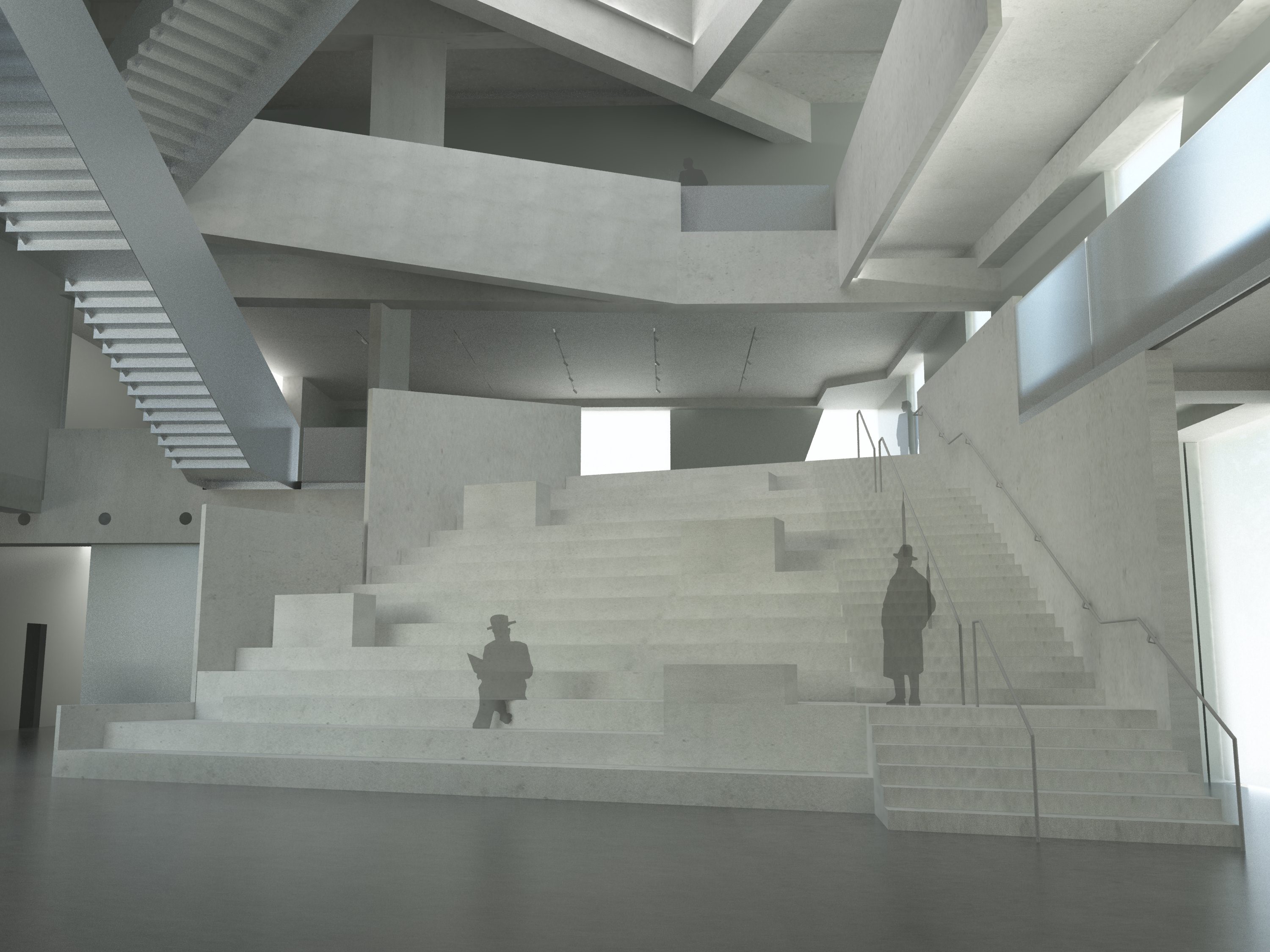 Rendering of the Glassell School of Art's central stair. Courtesy of Steven Holl Architects
Do you anticipate that the new building will enhance class offerings?
I am excited to develop interdisciplinary classes with other departments. This has been a longtime goal, and now we have a space in which we can make that happen. I have a pet class project I want to do between printmaking and jewelry!
Will the new space influence your lesson plans as well?
The improved facilities, especially the new and updated equipment, will make a huge impact. I also think the building itself will be inspirational to my students. One student has already designed a pair of earrings inspired by the architecture for the annual Glassell Benefit this May!
Another great advantage of returning to the neighborhood is the access to the MFAH collections. I plan to take students across the street to see exhibitions, and will make works from the MFAH collections a focus of some class projects.
The new Glassell School of Art; The Brown Foundation, Inc. Plaza; and BBVA Roof Garden open to the public on Sunday, May 20! Learn more.